As promised...
The AMCHPR Summer 2015 China Tour - Guilin, Part II / June 29-July 3
(Part I is here: The AMCHPR Summer 2015 China Tour - Guilin, Part 1 of June 29-July 3)
Part II
: a ride up the LiJiang 漓江 (river) from Yangdi to Yangshuo on a tour boat, followed by Yulong River rafting, and then some "taken from the bus" photos of the road between Yangshuo and Guilin (in that direction), taken coming back from the day's events.
After a short bus ride from Guilin to Yangdi, we began the tour around 8:00AM, with the normal overcast summer weather...but it was comfortably warm. Although travel sites warned about mosquitoes (which I hate even though they love me), I didn't notice any. There must have been some around, though, because I did see a drongonfly, and you will too. Dragonflies love mosquitos as much as I don't.
There was a very thorough explanation of the sites along the tour, right at the get-go. None of which I understood And you can see the serving table down the middle of the craft.
The following river tour photos are all chronological, and I'll only be commenting where the photos don't simply speak for themselves.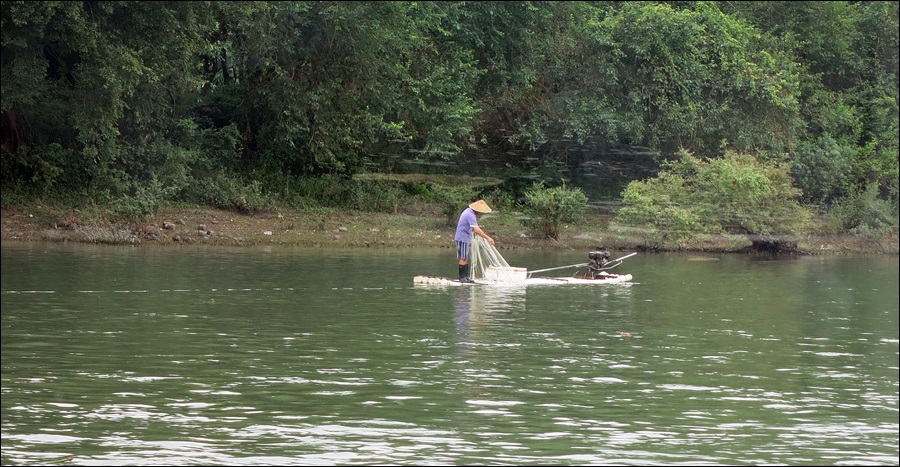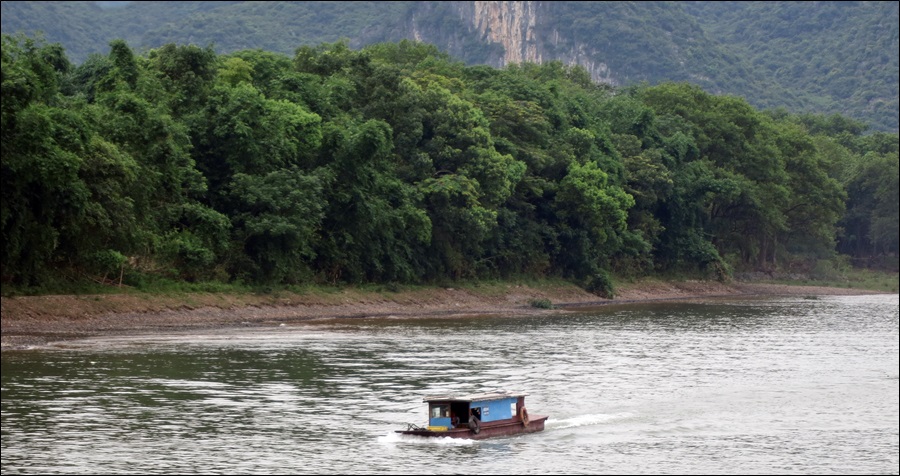 If you look below the angled stairs to the water, you'll see 9 birds, resting on a small raft. Meet the
cormorants
. They fish for the folks around here, and I'll explain how, later.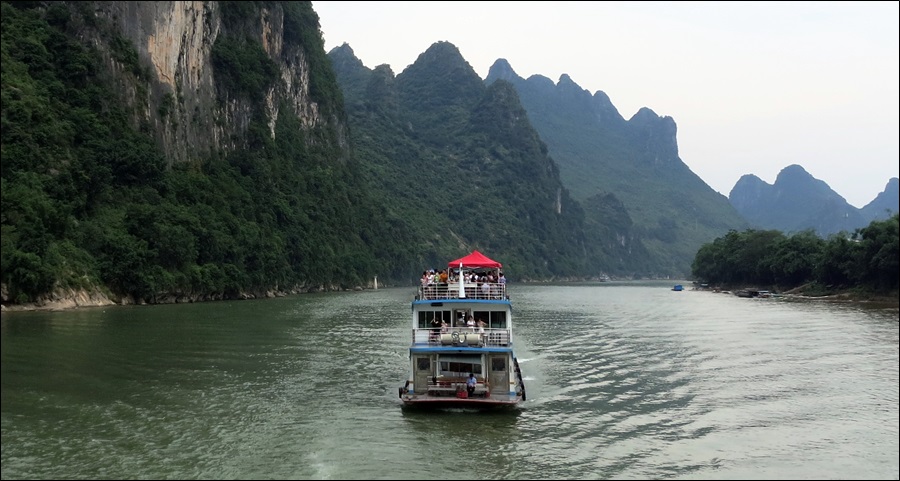 The young girl in this family (also seen in photo #1 of this post) spoke English quite comfortably, and the whole family was very friendly to me through both tours, so I did come to understand more of what I was seeing than otherwise. We still keep in touch, now, on WeChat. And, the food on the tour was every bit as good as it looks.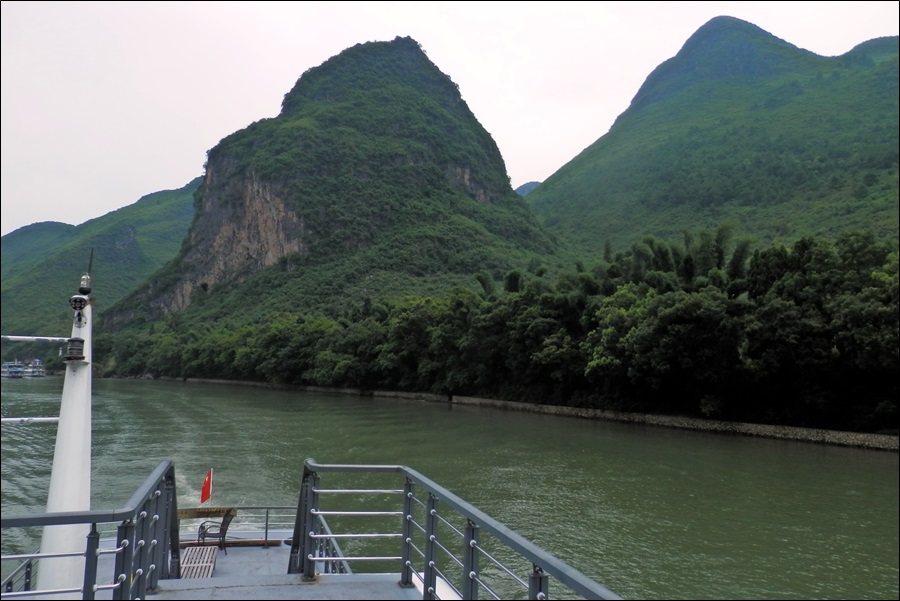 This hill goes by a few names (Mural Hill, Fresco Hill, Hua Shan, Nine Horse Painted Hill) and it's said that viewers can 9 horses in the natural shapes of the cut hill...
...and this next photo shows the exact three hills that can be found on the Chinese 20RMB note.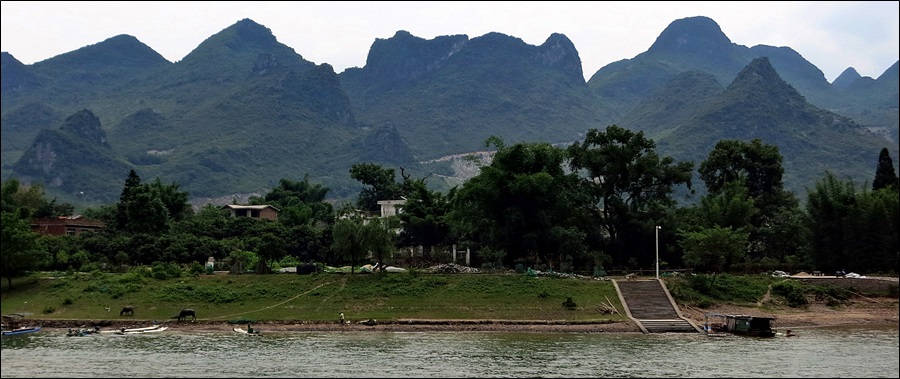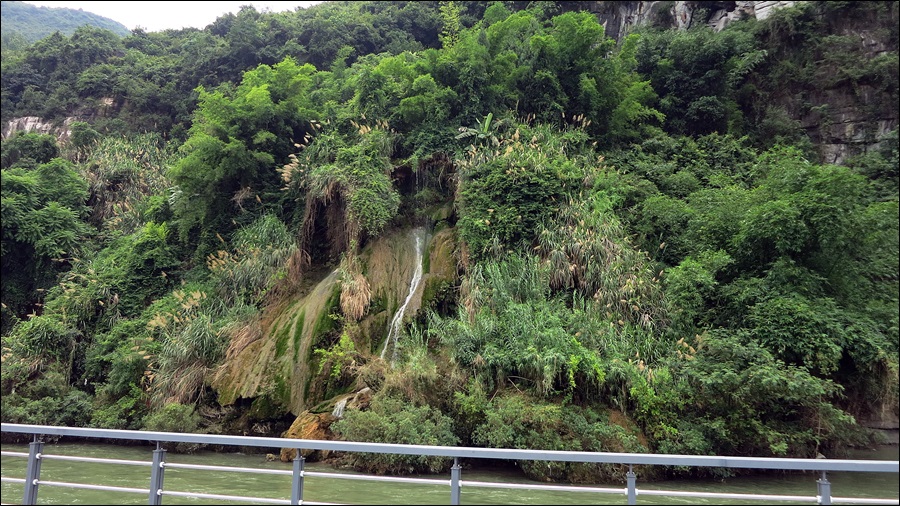 The LiJiang is quite busy with tourists so, although the various tour boats travel at different speeds and occasionally also stop at different places along the way, it's not at all unusual to be in a line of a few boats from time to time, and some sections are quite spectacularly busy, although river traffic here never seemed disorderly to me.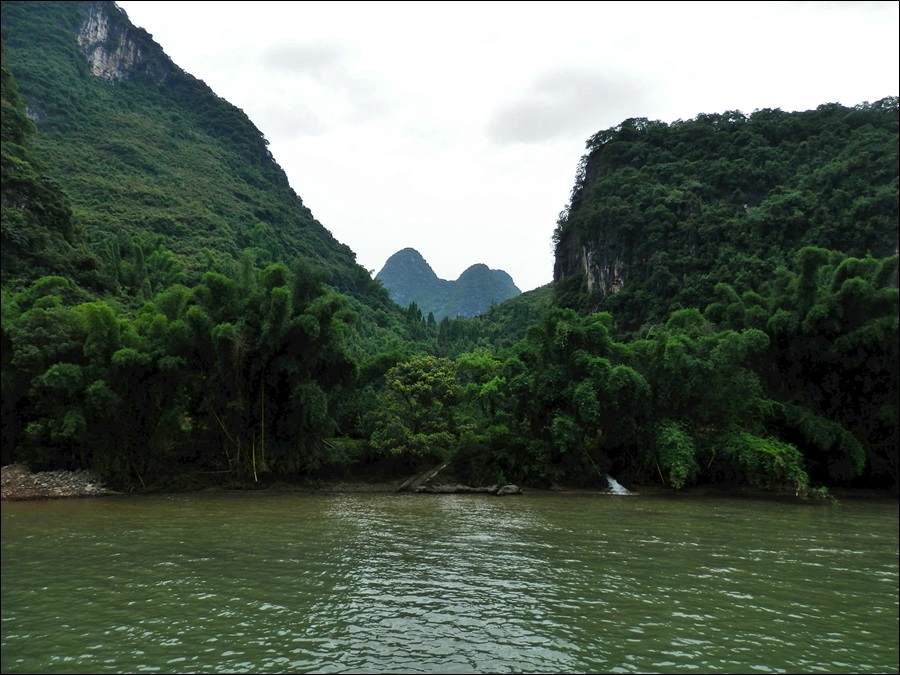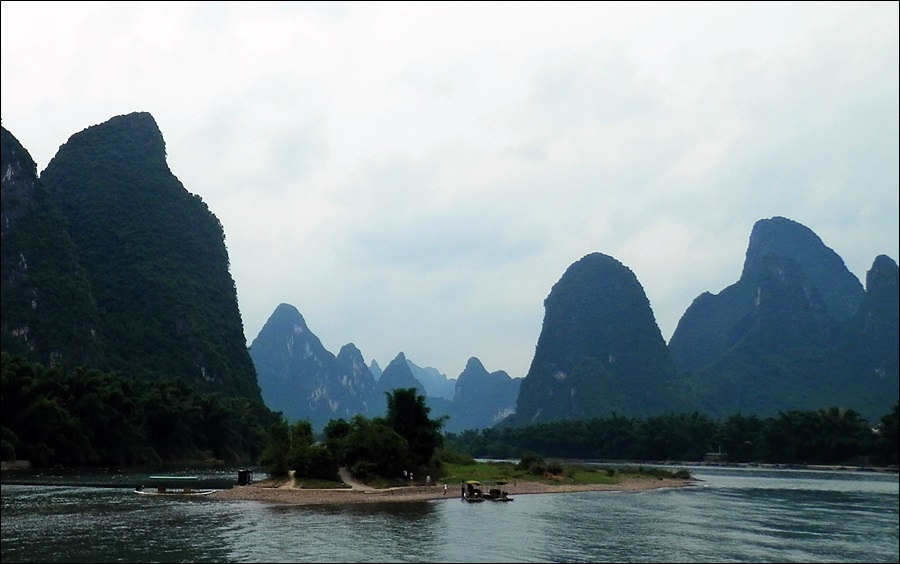 Before this photo, you'll probably have noticed orchards and farms on the hills here. It's spectacular country that's been husbanded for centuries upon centuries, but working this land must be very, very strenuous.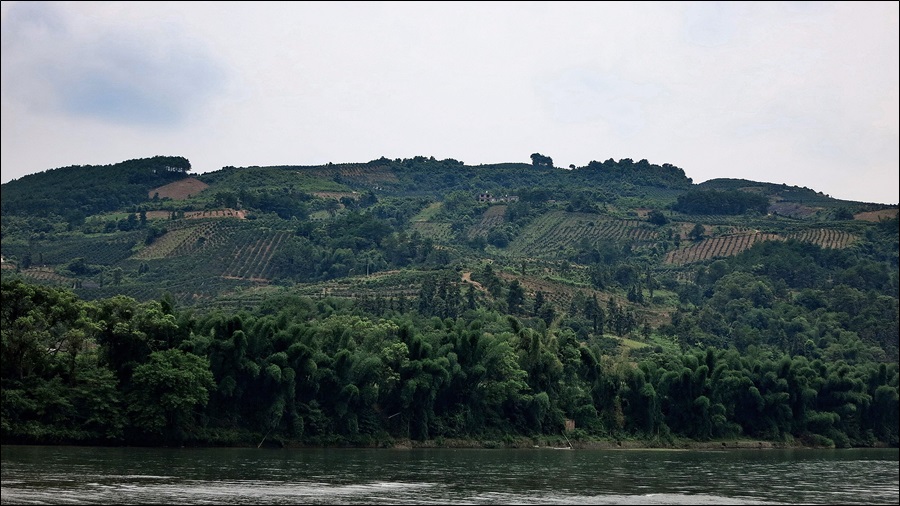 Which gets us to Yangshuo, where we had about an hour before we were to meet up again for the second part of the tour, river rafting.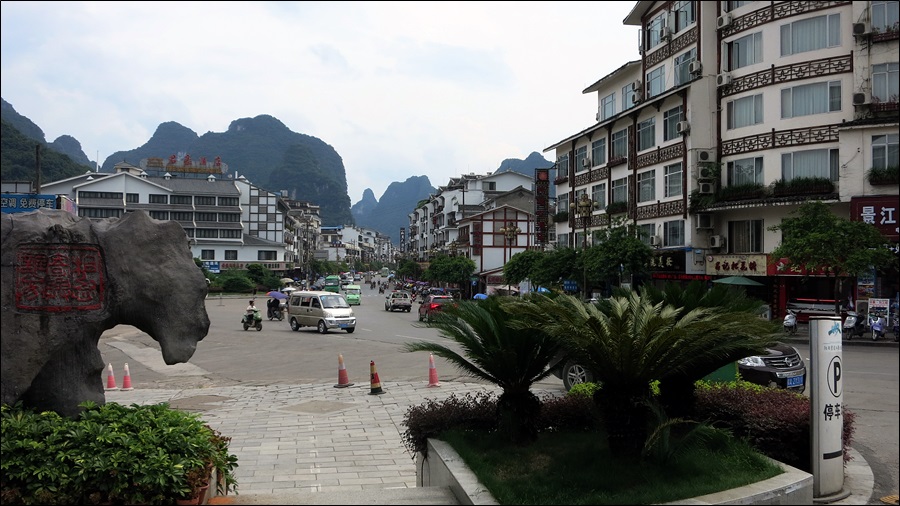 I didn't look around or shoot much in yangshu, though, because circumstances around a lost VISA card had made it pressing that I find a travel agent to book at least my flight to Zhengzhou, which was going to be
tomorrow
. I'd expected to hunt around Guilin when we got back,
if
one was open...but I saw the green sign in this next photo (Guilin Shanshui International Travel Service) and made the decision to try to get tickets right on the spot. The super-accommodating folks there fixed me right up, booking my flight tickets to both from Guilin to Zhengzhou, and also from Zhengzhou to Yantai .
I had
just
enough time to get to this beautiful hotel lobby...and get almost immediately on the bus to the rafting tour a few minutes away.
The rafting tour begins almost right underneath the Yulong Brige, which is the vantage point for these next few photos.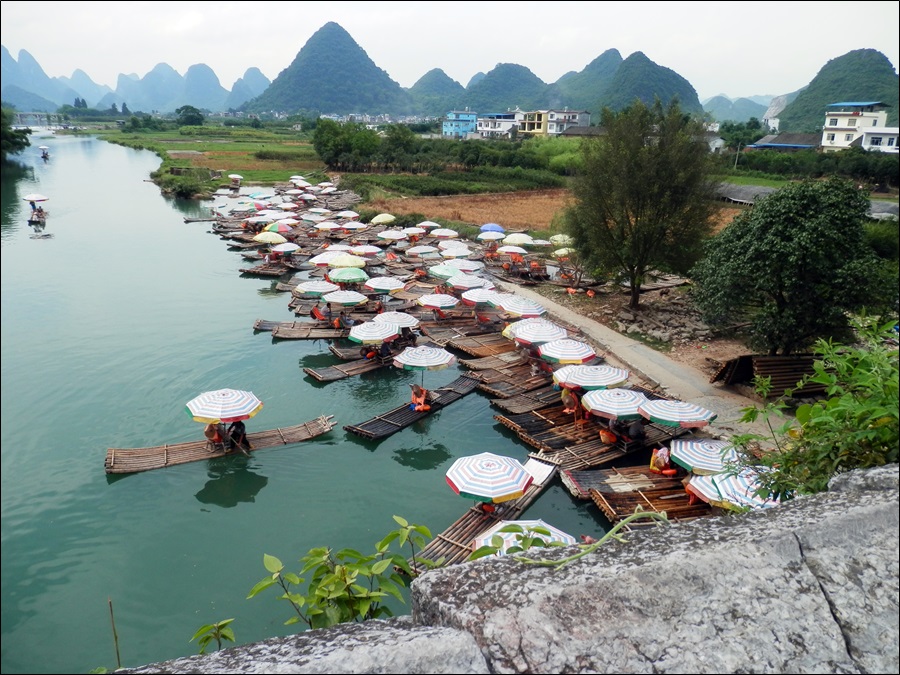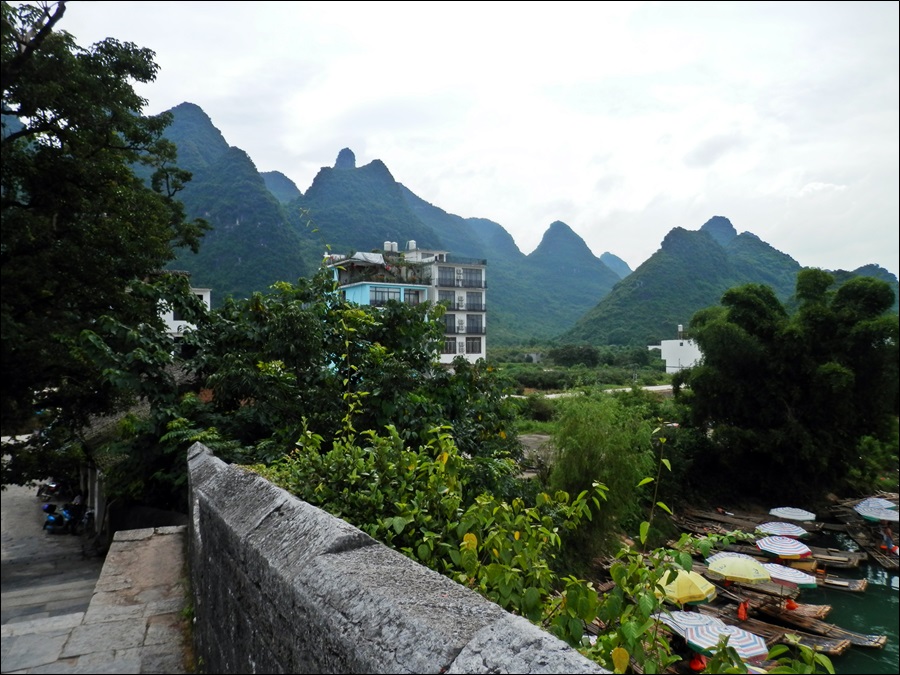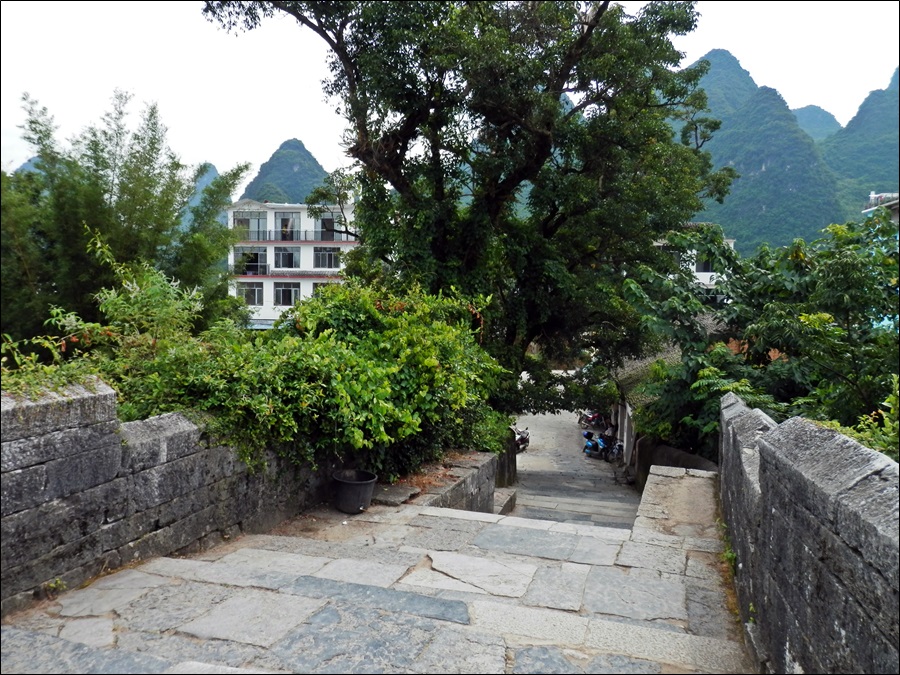 Looking one direction from the bridge...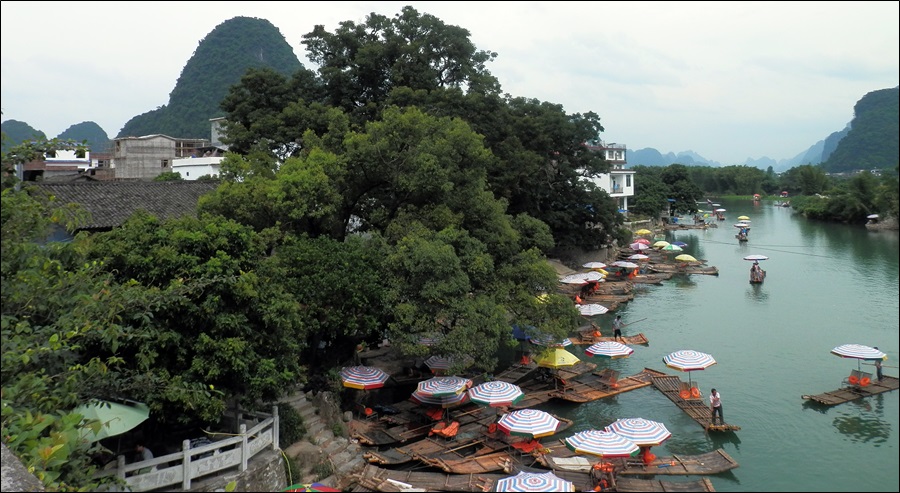 ...and looking the other.
And very nearby here was also the vantage point for the Windows Vista Beta Wallpaper
And the rafting tour begins...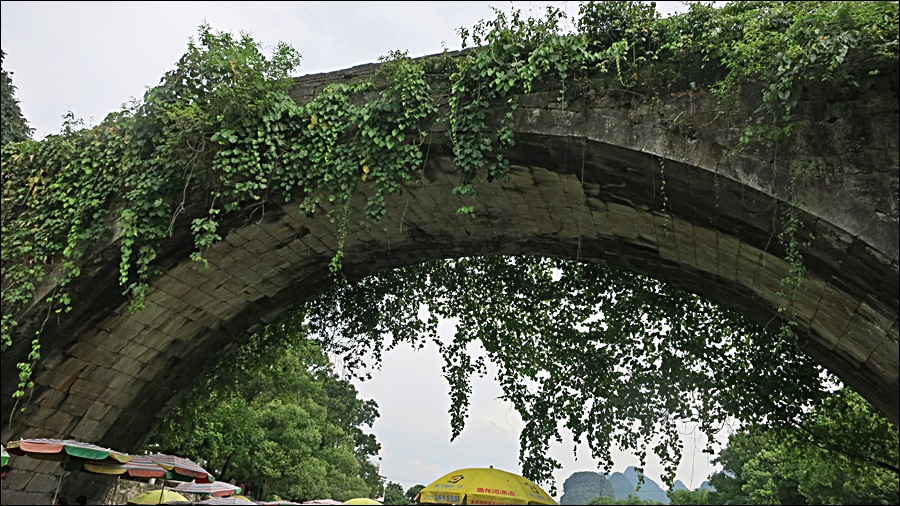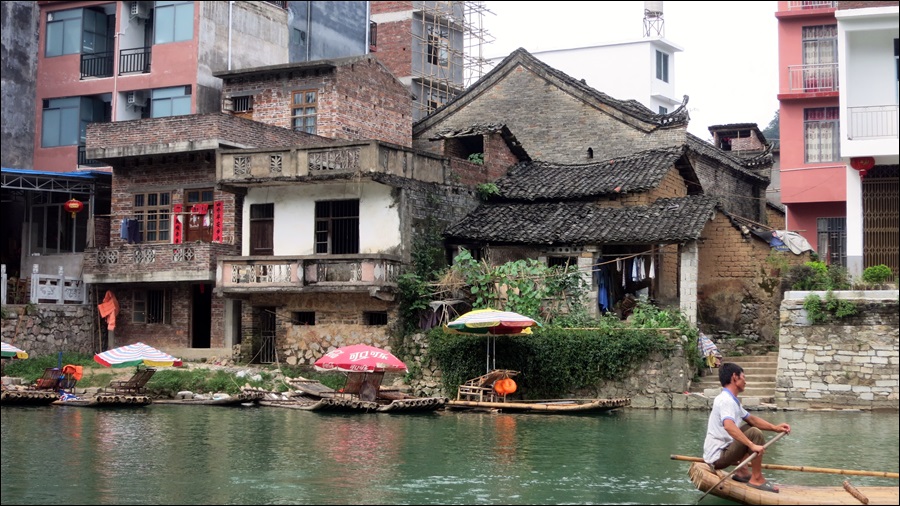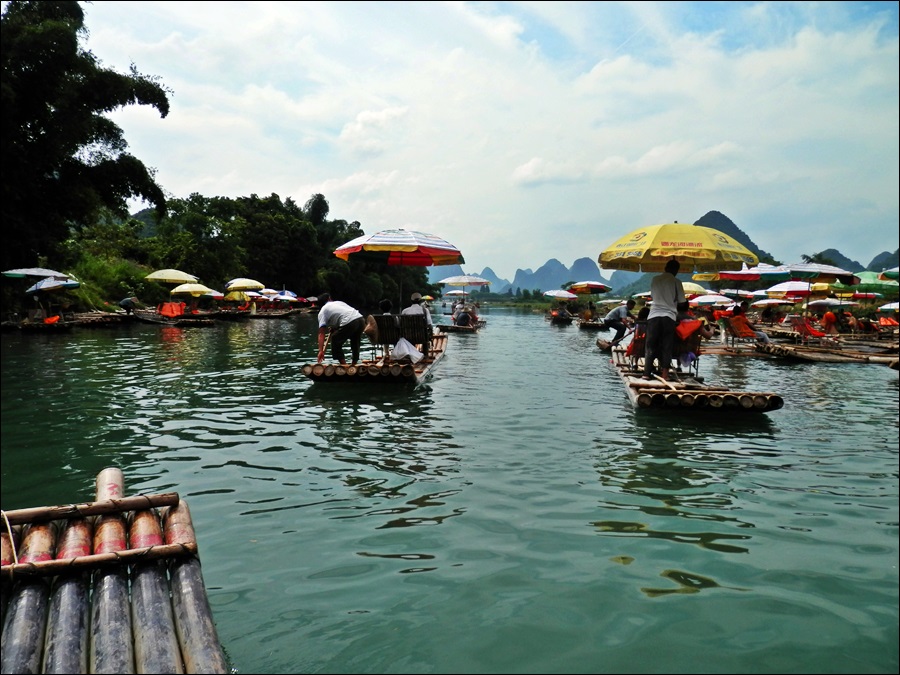 Now for the explanation of cormorant fishing. Unfortunately my photos don't show it very well, but here's the technique:
Cormorants already know how to fish. That comes naturally. But the fishers in this train the cormorants to catch and retrieve fish by putting a collar on the cormorant's neck which prevents the bird from swallowing. The payoff for the bird comes after the fish is retrieved when the fisher feeds the cormorant food it
can
eat.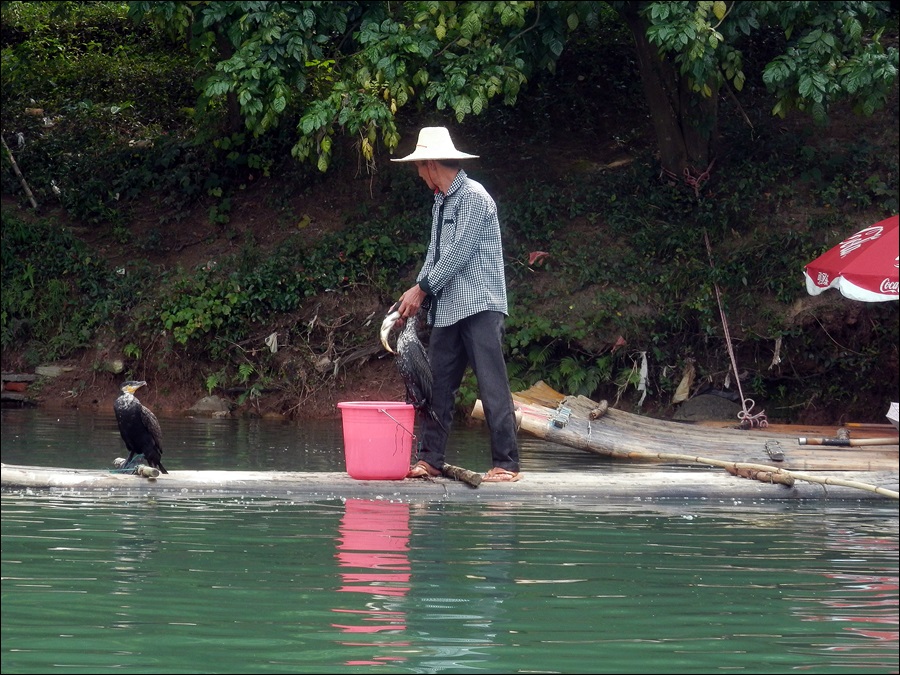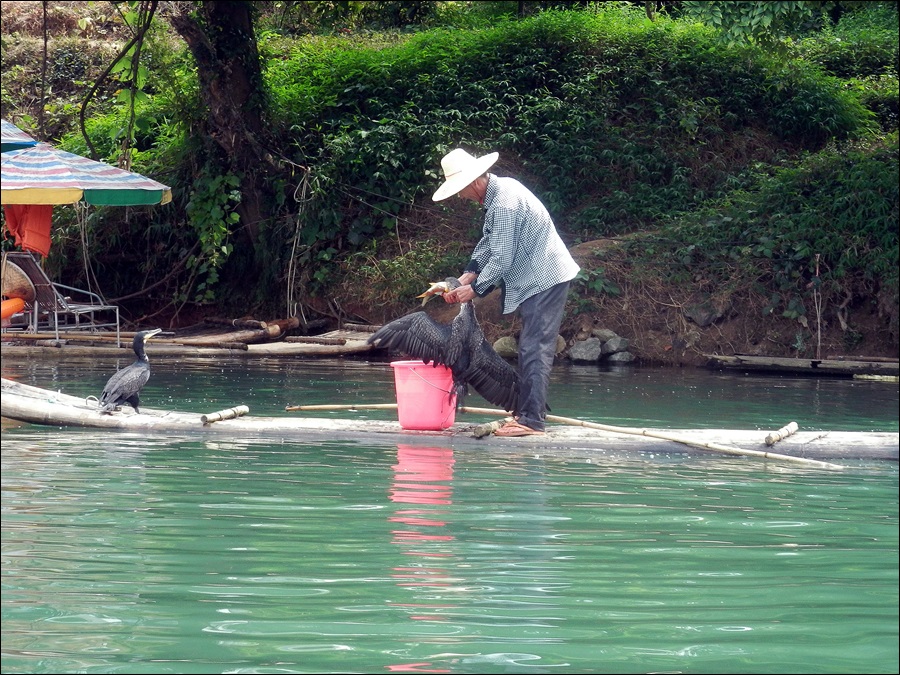 And I love this photo...traditional China meets new China.
The rafting area is also very popular for wedding photography and people come from all over China for photographs here.
I'm not sure the significance, if any, of the pose of the person in this photo, but I loved the martial arts look of it.
Told you that you'd see a dragonfly...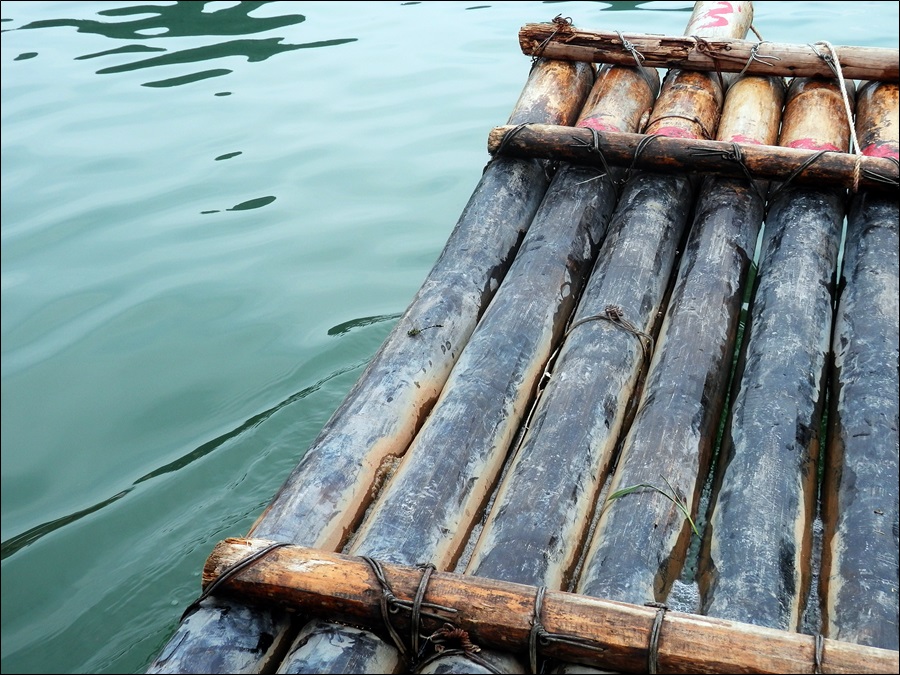 And back to our regular programming...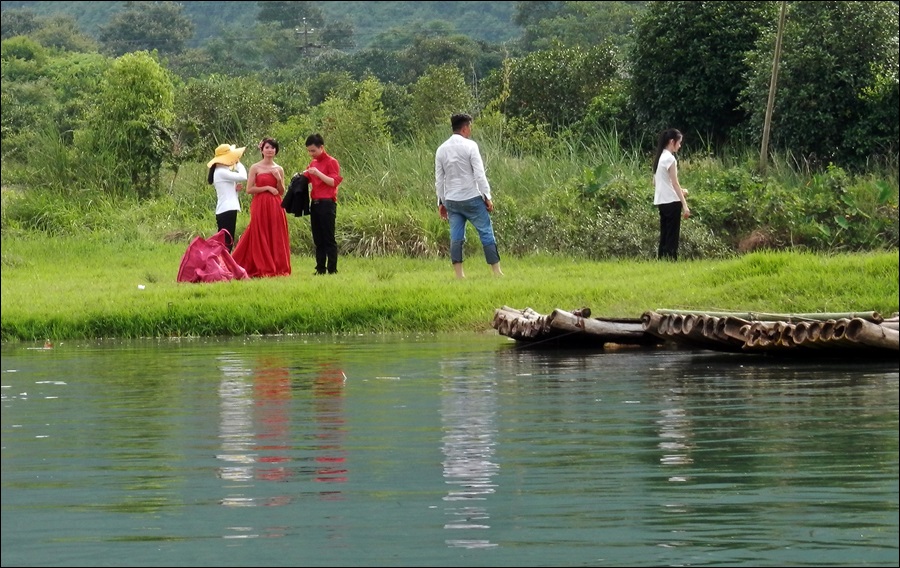 A village calf...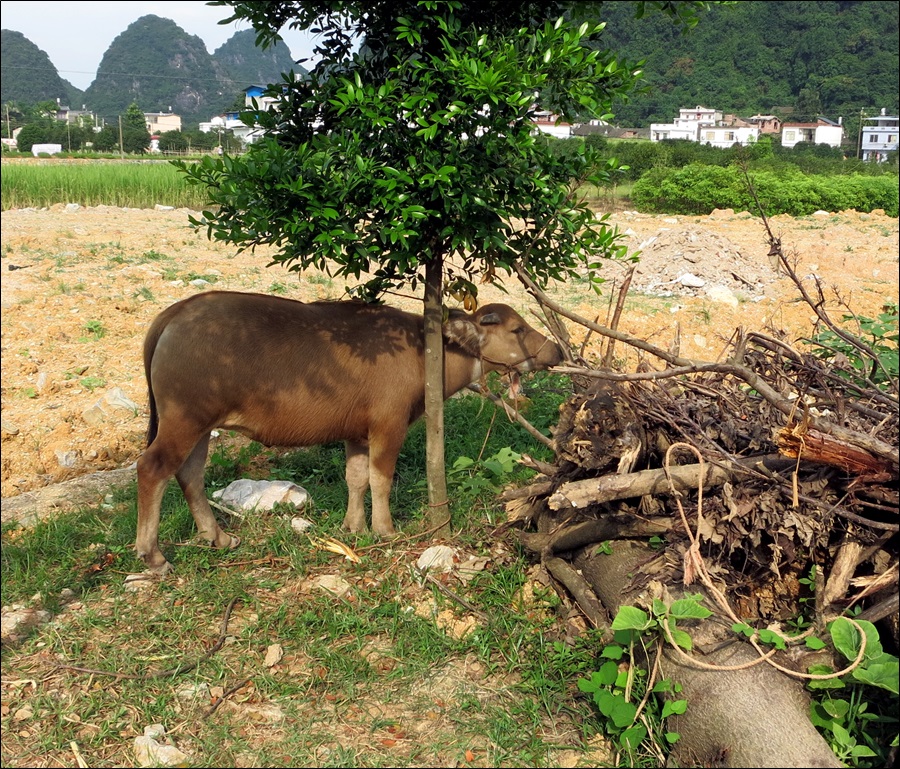 And now scenes from the bus, taken on the road back to Guilin: general area scenery, farmland, small businesses, small villages, roadside food stalls, family and apartment housing. I like these last photos since they're kinda not touristy photos at all. They're just day-to-day China outside the city, very much like the photos take from
Shijiazhuang to CangyanShan
and
Shijiazhuang to Tianjin
during my 2011 trip.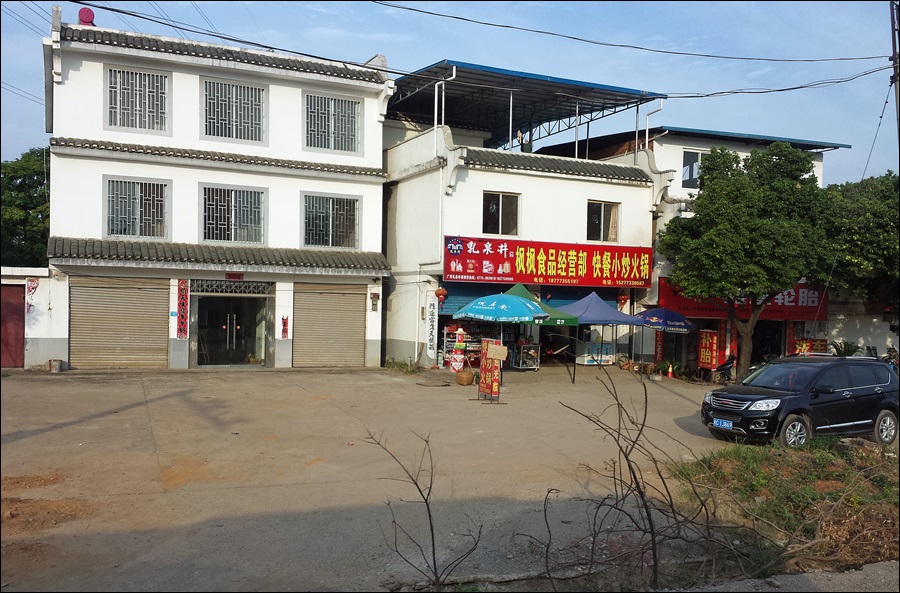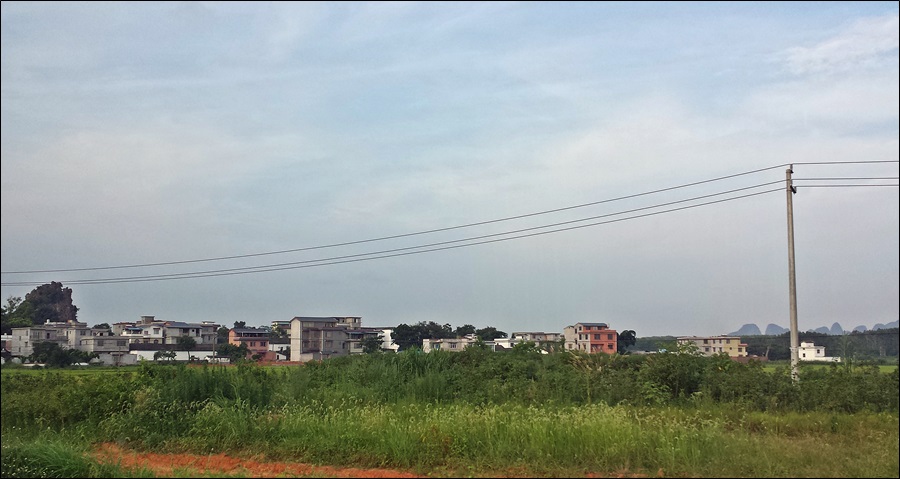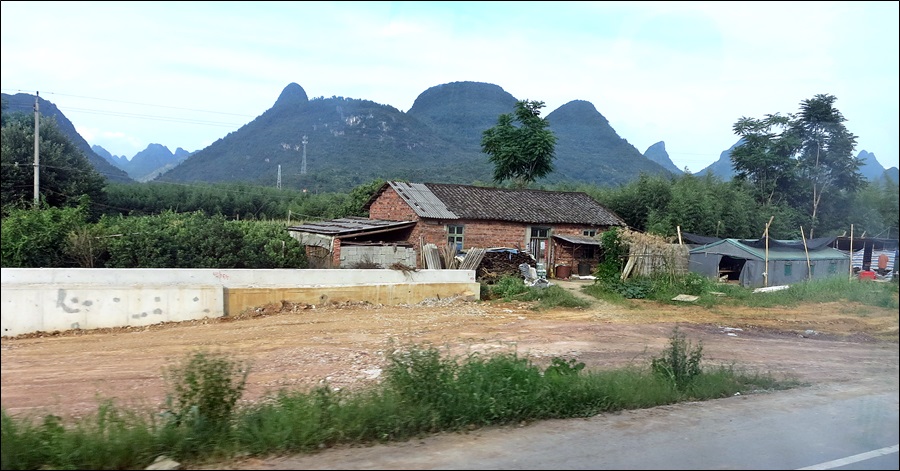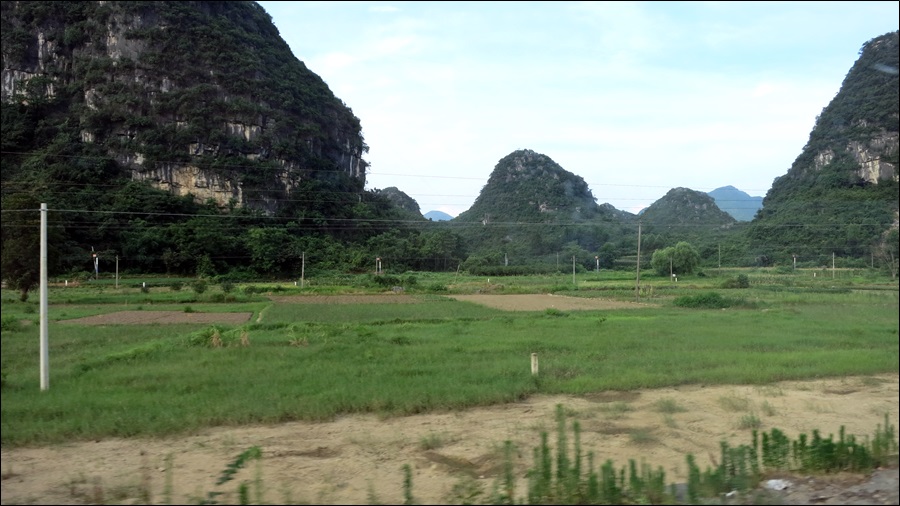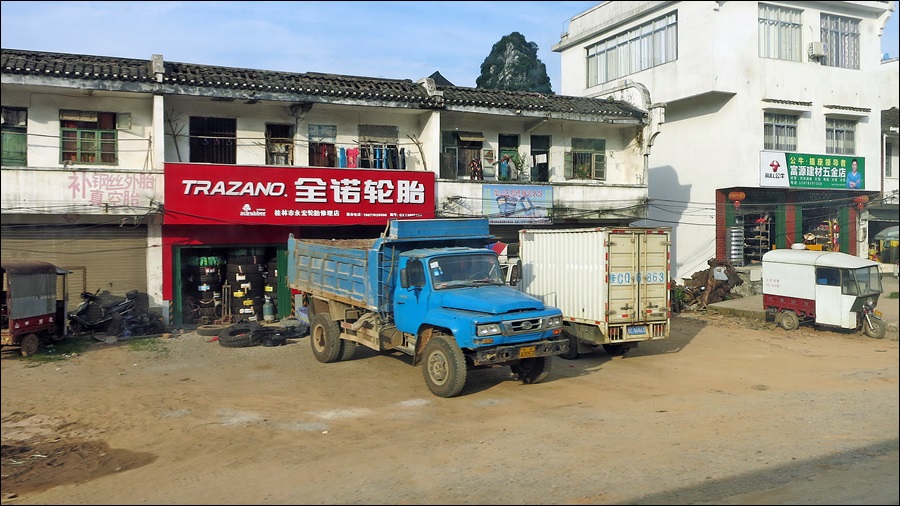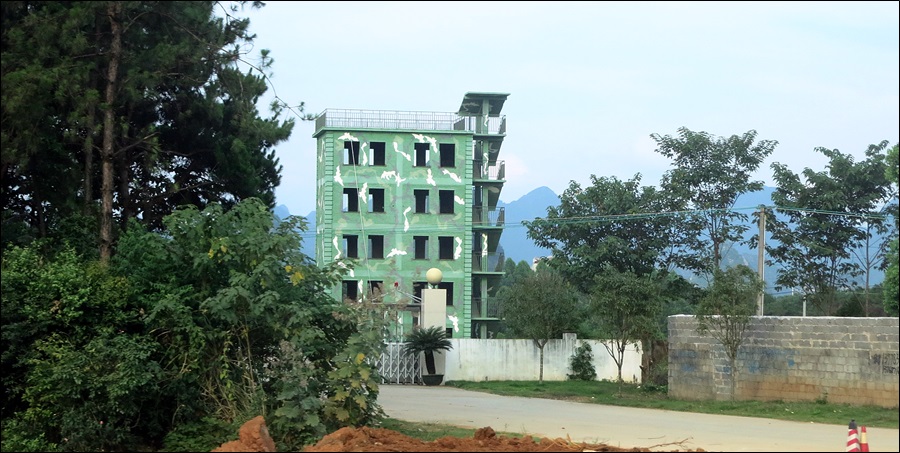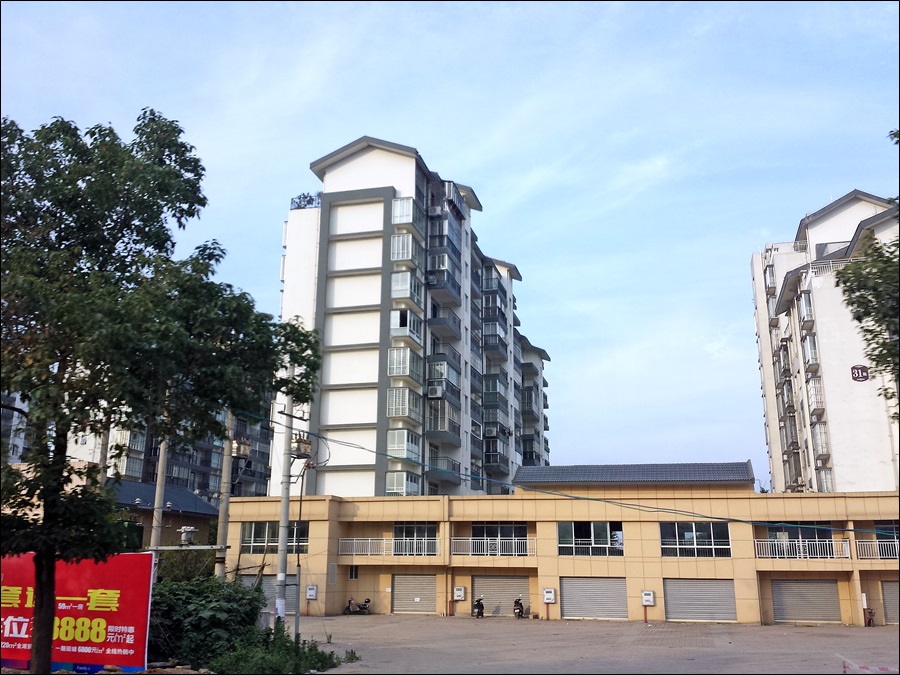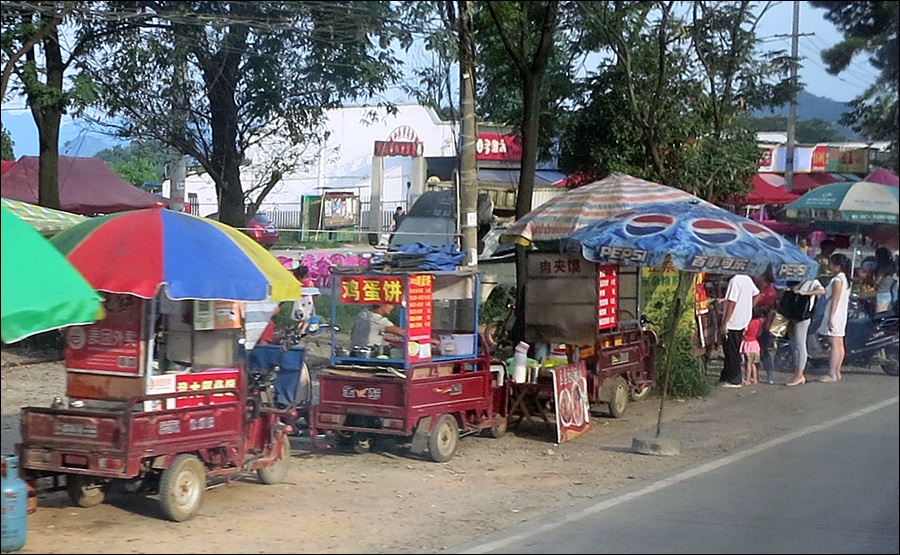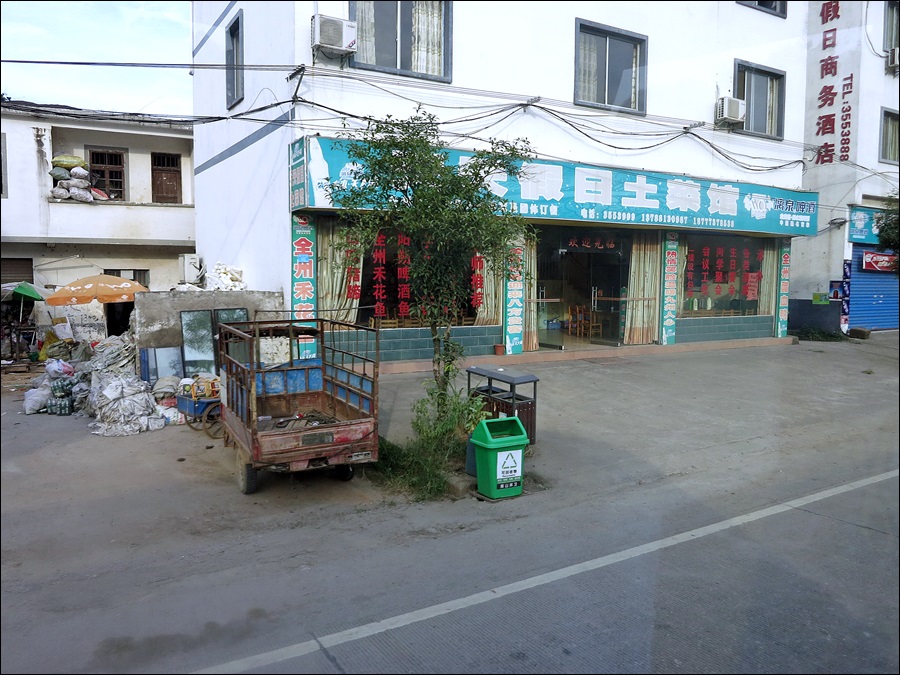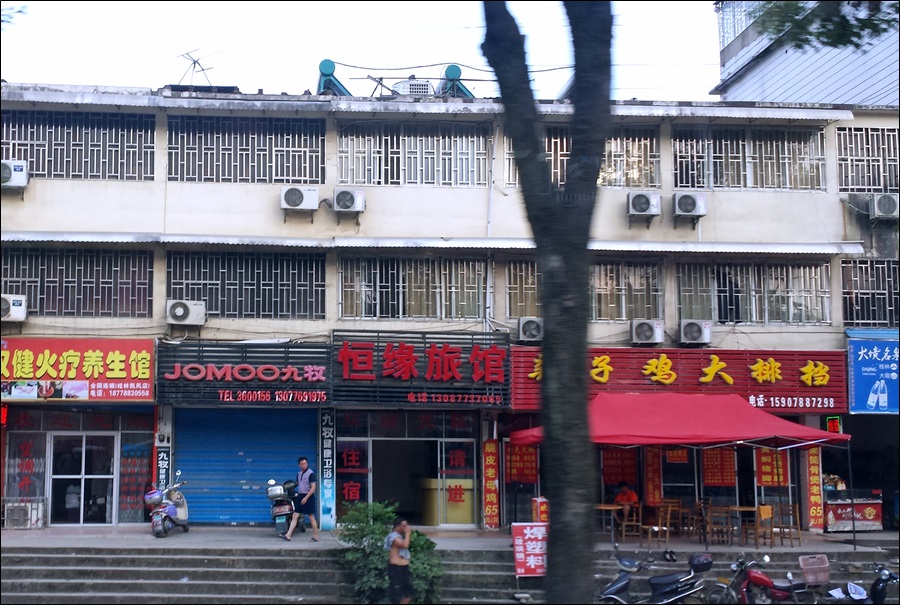 Next post in this series? Xinmi and Luoyang, near Zhengzhou (and Luoyang for one of the coolest stories this trip...yes, I tease again).