I've been in Shijiazhuang with my brother in China, MaRong/Cameron Ma, since the 13th. MaRong and I have been catching up on events since we last got together in 2011 (although we are in contact much more than that), spending time together at local sites (and a night of KTV) and I've been wandering around a lot on my own.
(And, yes, I'm up about 20 more watches since I last posted...but most of that will be later in the Shiiazhuang posts...or even after Tianjin, maybe. I have a very busy schedule in Tianjin).
With all that activity, I haven't taken the time for posting and I'm about a week behind. So time to catch up. A bit.
Today is mostly a post about my second day in Zhengzhou (the day after my Guoliang visit/April 12th) -- again spent with Sky, my guide (and with some of the time spent with the driver and Sky's very friendly father who is about my age, as well.
The plan was very loose, just a "stroll with no schedule" around downtown
Zhengzhou (city details at link
), a city of roughly 10 million people. It was a gorgeous, sunny day, nicely warm and dry...and a great day for sightseeing.
But first: a quick blurb about what will rank as one of the most surprising -- and enjoyable -- minutes of my life.
It happened the early evening the day before I went to Guoliang, April 10th. I was exploring along a street near my hotel, taking photos like these...
...When I heard a startling, very abrupt rush of noise erupt beside and just behind me...a whole bunch of people suddenly yelling and cheering and shouting, so much so that foot traffic on the street stopped dead with everybody looking at the source, so I turned to find out what was happening.
Evidently _I_ was what happening.
It was a busload of mostly students who had
spotted a foreigner!!!
. They were pretty much all cheering and waving , smiling and laughing, and shouting "hello!" and "ni hao!" and "laowai!" at the top of their lungs and...and I'm quite sure the bus driver hates me every time he visits his audiologist now.
I can't describe the noise except that it was very
very
loud, very shrill like only the sound of many boisterous yelling teenagers can be, 100% friendly and quite astonishing...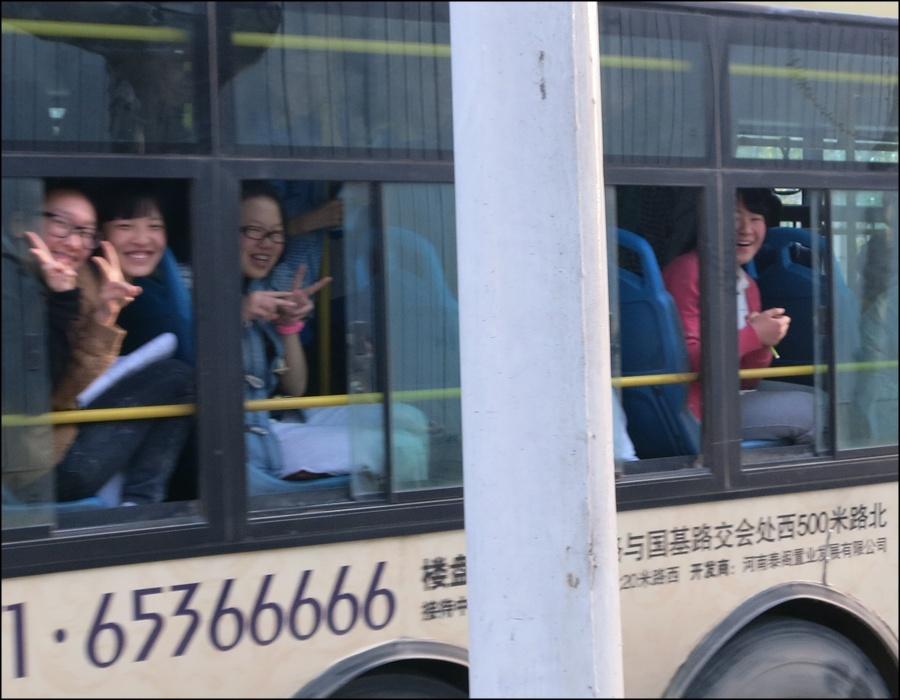 It's fun stuff being a foreigner in China
OK...back to our regular programming. Now, here's the photo log of April 12th in Zhengzhou, capital of Henan province...
We started off wandering, loosely headed towards Zhengzhou's much smaller-than-Beijing's "
Panjiayuan
-style" antique/flea market...
...where I bought two watches, a Shanghai 7120/746 and a gold-tone Baoshihua, neither high value, but neither high cost, and both horological souvenirs of my trip to Zhengzhou's flea market (neither made in Zhengzhou, mind you; they're both products of Shanghai factories). The watch photos are "hotel room" shots, so please excuse the photography.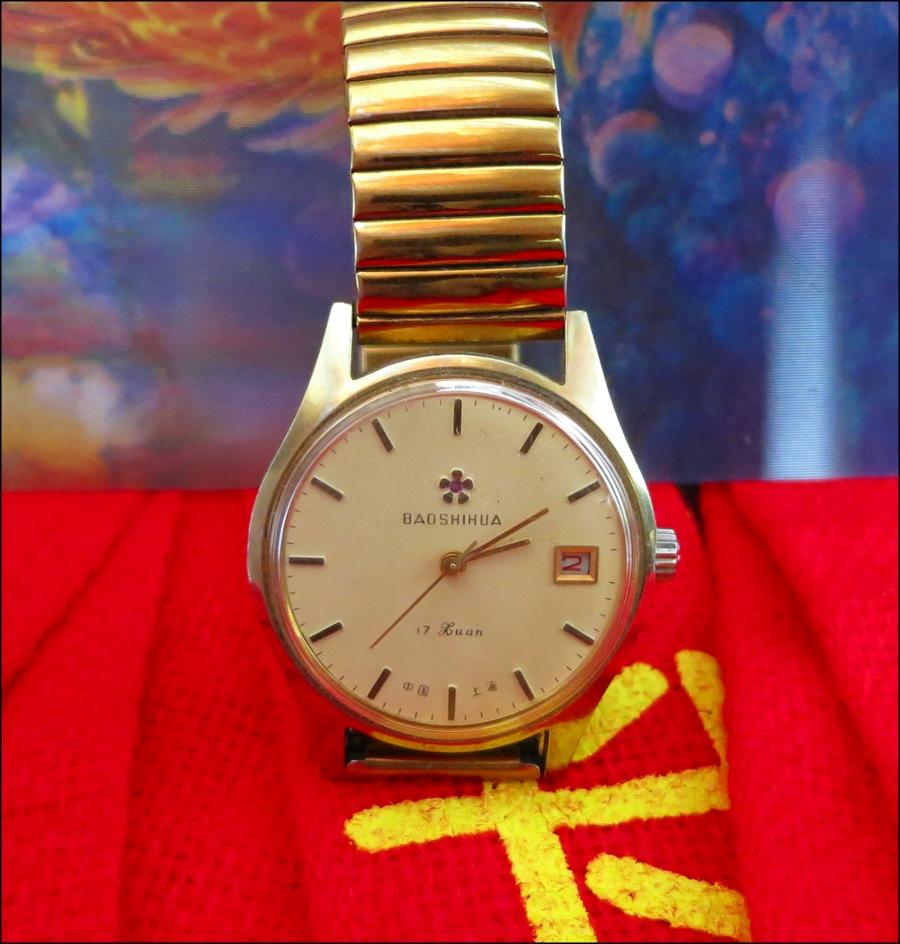 Following the market trip, Sky, plus our driver and Sky's father, and I walked to one of Zhengzhou's landmarks: the Erqi Tower near the center of downtown...
...then we had a tasty noodles and tomato lunch together at a nearby restaurant. Afterwards, Sky and I headed off alone through town...
...and then to the Zhengzhou City Center People's Park where we did our best to enjoy the afternoon like everyone else there
...including, we hopped on a very tall ferris wheel since there's a pretty good size amusement rides area inside the Park (and I'm very much getting over my fear of heights
) ...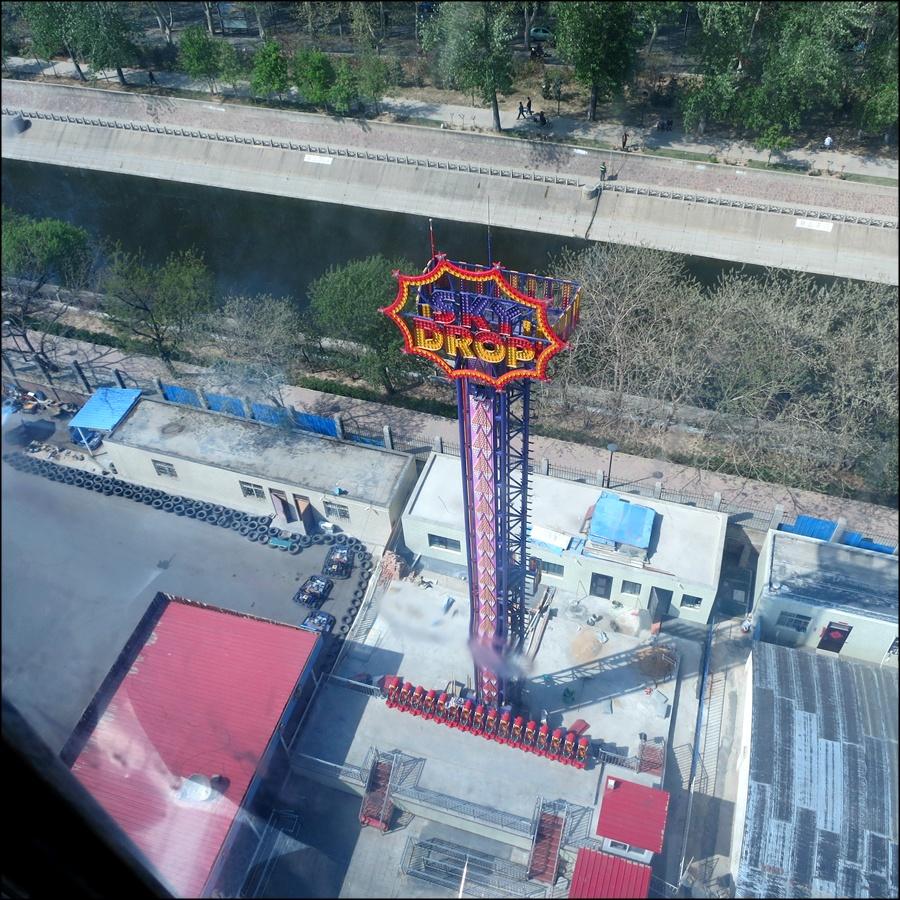 ...and we also grabbed a self-steered ride on one of the park's battery powered rental craft...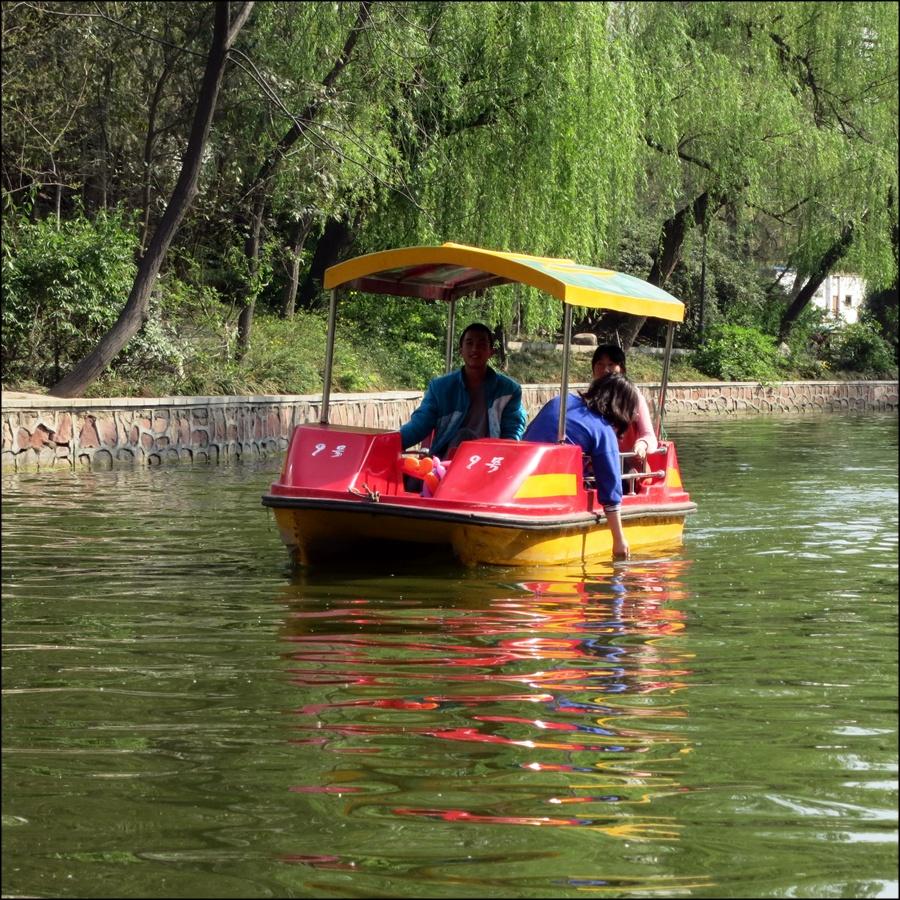 The highlight of the day for me, though, was a period of about a half hour early on in the vist to the park. Sky and I sat down on our way through a playground area so I could take some quick shots while we were headed to the ferris wheel.
A couple of young schoolchildren quickly approached me, asking questions in quite good English, like where I was from and what was my name, and so on. The kids were evidently on a schoolday trip to the park. Within seconds, though, we were both surrounded, with the kids asking questions in English or Chinese, with Sky answering in Chinese and me answering in English.
Here's a shot of me surrounded by the kids and a shot of just the kids: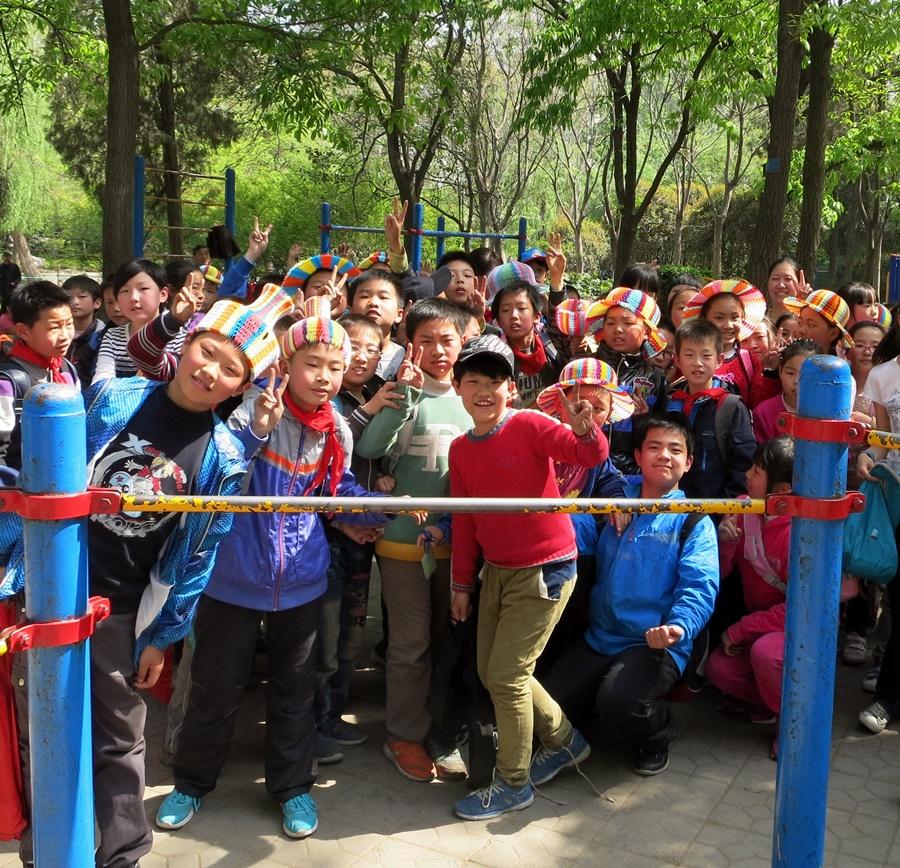 And if you're ever wondering why things seem so generally clean even with all the people in these cities, this is one of the most common sights in the country at any time of day, from the busiest street to the least crowded, a veritable army of workers, alone and in groups, wielding various sorts of brooms and litter grabbers:
Next posts: Shijiazhuang (where I am today, as I write this post), including a return visit to Cangyanshan, then Tianjin (where I go tomorrow)...