Written on April 12th in Zhongzhou.
I'll post about Luoyang and Zhongzhou within a couple of days as I'm very busy with travel (Yuolang to Zhongzhou, and then tomorrow to Shijiazhuang), plus checking off bucket list items (Longmen Grottoes at Luoyang on Tuesday the 8th, and Guoliang Tunnel somewhat near Zhongzhou on Thursday the 10th) but I've wanted to write
this
post ever since a small, but very memorable experience that took place on Monday, April 7th, on the morning of my first full day in Luoyang.
===================
My first night in Luoyang had not been a success. It may have been just
my
room, which I doubt but -- unlike the otherwise always very adequate, and mostly even quite nice --- rooms I've had before and since in China both times now, this place smelled awful, had almost zero heat and was so obviously mouldy and damp that I thought health was at risk...
and it had crappy internet service
.
That last bit sealed it. The fact that the staff of the place were young, ultra helpful, polite and exceptionally friendly wasn't near enough to make me want to stay more than a few hours overnight, so far too early in the morning I got up, and as soon as it was a reasonable hour, I begged off the remaining nights. I then booked another hotel.
It was a cool and gray day but better outside than inside at that place, and I had a few hours to kill before check in time at better digs (and they were). So I went walking.
(I'd find out later --and you'll be able to tell from the photos in following posts -- that this was a much lower status area than elsewhere in Luoyang city, but then I'd seen similar areas in other Chinese cities so --- leaving aside the nastiness of my room -- I actually quite liked the environment, and I was happily exploring and shooting. And, as always, looking for watches)
Here's where I was walking. First a few blocks on this very urban street...
...then turning a corner and down a few blocks of this quite busy but mainly pedestrian and bicycle side street...
...then around another corner and over a few blocks to this narrower street where it was still somewhat busy...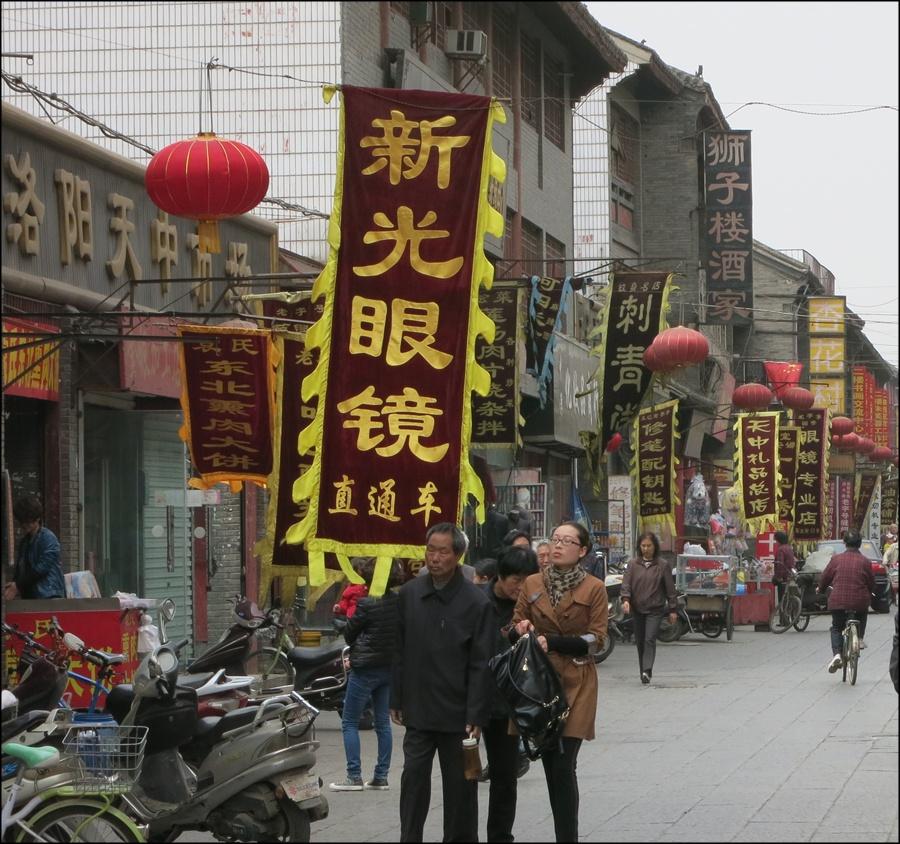 ...then finally around another corner to this again wide but
much
less busy street. It was quite quiet there and oddly reminded me of something like an old western town...
I was on that street, and had just finished a short conversation in halting Chinese and halting English with the owner of a small neighbourhood watch and jewelery shop. (I'd asked if -- among the fakes and cheap quartz offerings -- he might have some old VCMs laying about from earlier times. The seller was very friendly but the answer was nope, he didn't have any.)
As I left the store, I was approached by this gentleman. In very basic and rudimentary but polite English (at about same very poor level of my Putonghua), he asked if I might like to accompany him to his home for tea as I was a foreigner and he wished to show me welcome. Plus, he indicated, he liked that I knew about the old watches and he had some history to show me.
His entire manner was obviously not dangerous. He was very gracious in fact, so we walked together to his home down the street and then into this narrower alley as he described to me a bit about the history of the neighbourhood...
...We then stopped here at his home:
He explained that his home was over 200 years old and as we went inside I was struck by the simplicity of his life. I saw a neat and spotlessly clean but very spare bedroom on the left, a second orderly room that was his work area on the right, and between them only a single chest with teapot and some cupboard area. That was really it, except for three simple chairs and a table, and a small third room bare of any furniture except a cupboard, with a few items of art on the wall, floor and window sill.
That was it, at least in what I gather was his section. I didn't see anything like a heater, and certainly nothing like an air conditioner.
He then began to show me the art, which he explained was either of his own crafting as a now mainly retired calligrapher and woodworker, or that were gifts from friends, and that the pieces were not for sale, but he thought I might like to see them.
He was right and here's some examples:
Following the time we spent looking at his art, he introduced me to his brother and then made us tea. The very close relationship they had was immediately apparent.
We spent the next hour using our smattering knowledge of each other's language and a translator app on my phone and a phrase book, to learn about each other, sometimes with some success, other times with no success at all except mutual laughter or quizzical shakes of the head.
He also wrote his name and address on an envelope, but I'll have to get it translated when I get home because he couldn't write any English, and I can't read near enough relevant Chinese.
In other words, the morning turned from cold and frustrating to fascinating, friendly, confusing, informative, illuminating, challenging and utterly memorable.
After about an hour, I explained that I had things to attend to and that I must leave, so we said our goodbyes at the door of his home.
He's a friend, now.