For those who has been following me in Time Zone may remember the TT 1931 Reverso was my target for 2013 but work this year leaves me no time to think about watches till I was invited to a Holiday Cheers by my local jeweler for some drinks, food and live music this past Friday night. To my astonishment he is now the authorized dealer for MeisterSinger. A watch I owned years ago and foolishly let go. In fact it was the only watch I ever sold.
So after a couple glasses of Pinot Noir and the lure of a new watch, not to mention I was still jet lag after a long flight just moments ago. The NEO 1Z came home with me that evening.
The MeisterSinger of today have gone quite upscale, both in term of packaging and material yet remains an extremely affordable brand. I guess that is another reason they achieve to stay under the radar for so long and only a handful of people even know of its existence. Which is fine by me.
Let me start with the packaging. They have their own logo bag!!! I remember my first MeisterSinger came in a cardboard box not much better quality then any Seiko JDM watches. The presentation box is in the form of a book!!!
I think it is a rather interesting package.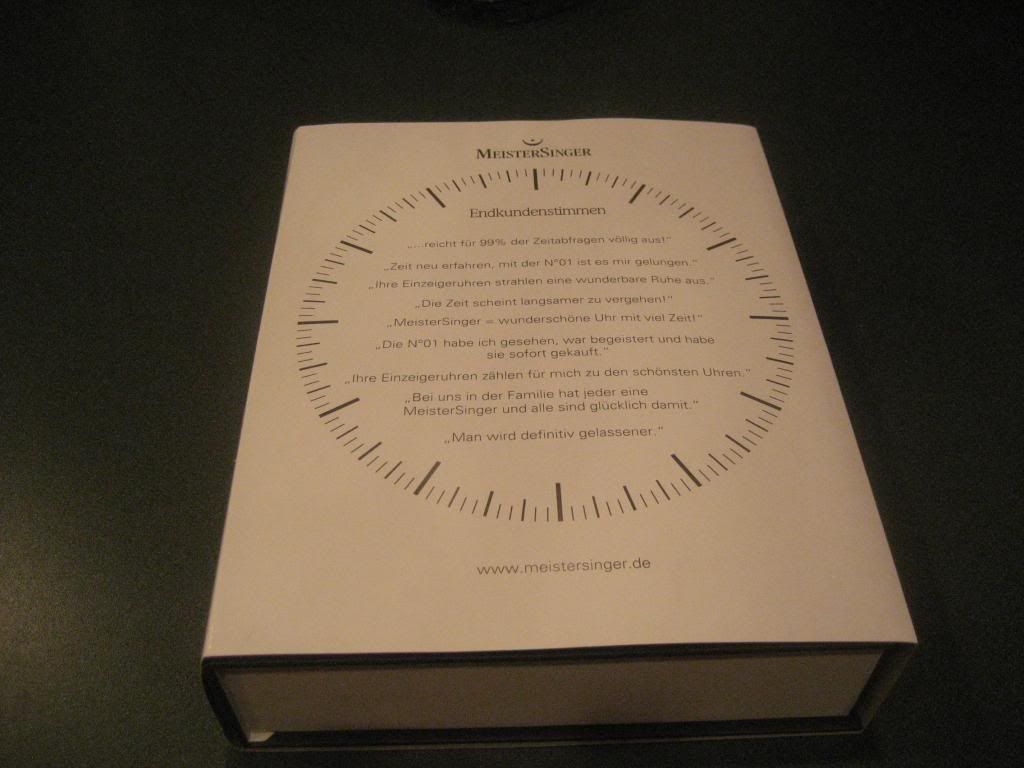 I guess I can now keep my watch on the bookshelf and no one will ever know.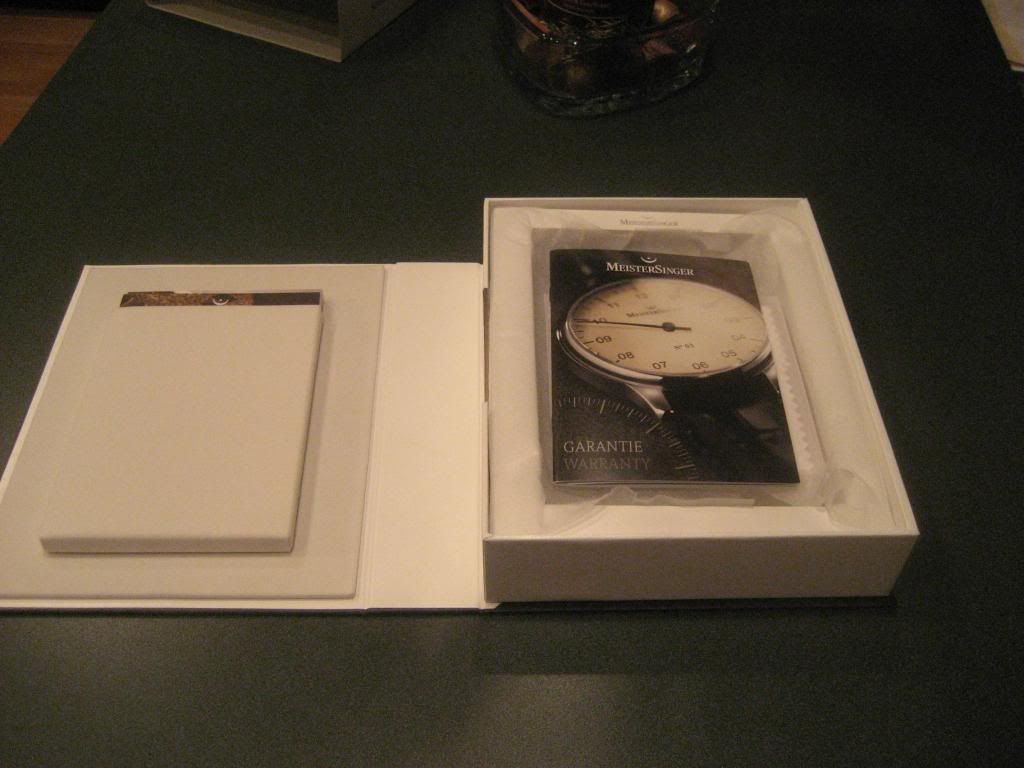 The watch is sandwiched between two plastic films and gives the illusion of floating in the box.
And to top it off the inner box can be taken out.
It is very difficult to capture the watch with the camera, at least it is for me. But the quality of the built and finish is obvious. The plexi glass is doomed and the design has a bit of the retro look. It may just be because of the dial color.
The NEO comes with a grey alligator strap, gone were the days MeisterSinger only offers the utilitarian leather straps. The NEO comes with two dial colors, the grey which is what I choose and the cream. The cream dial comes with a dark brown alligator and the watch looks a bit more dressier.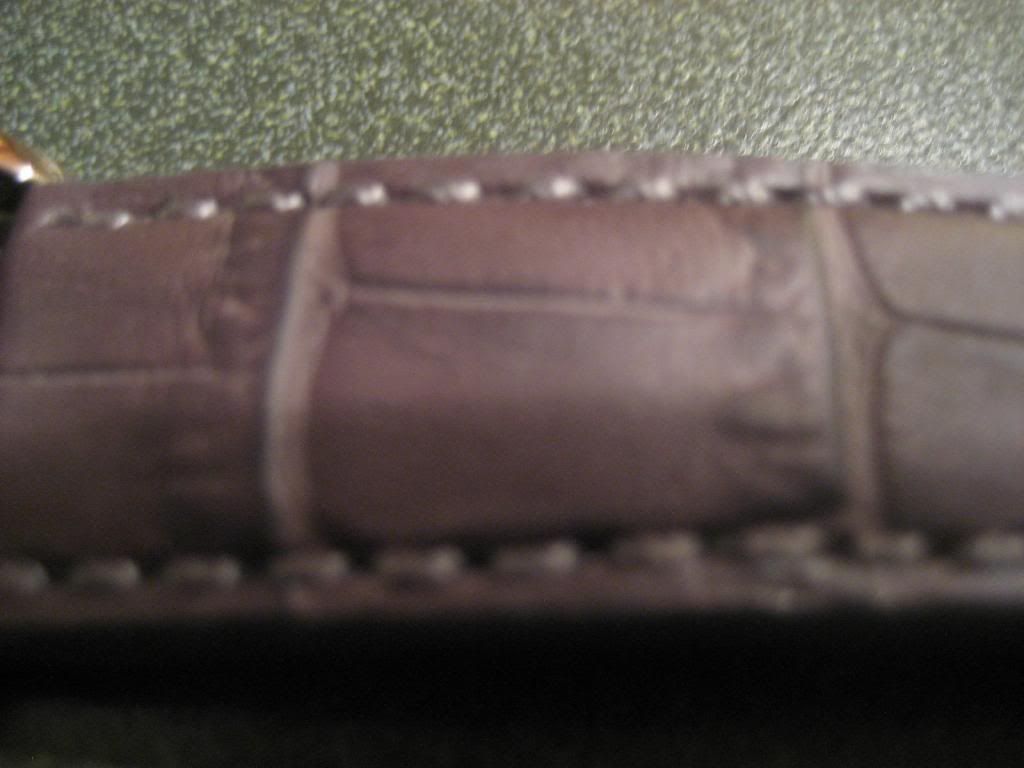 The buckle is stamped with MeisterSinger logo.
NEO only comes with solid case back, something I wish they will change in the future.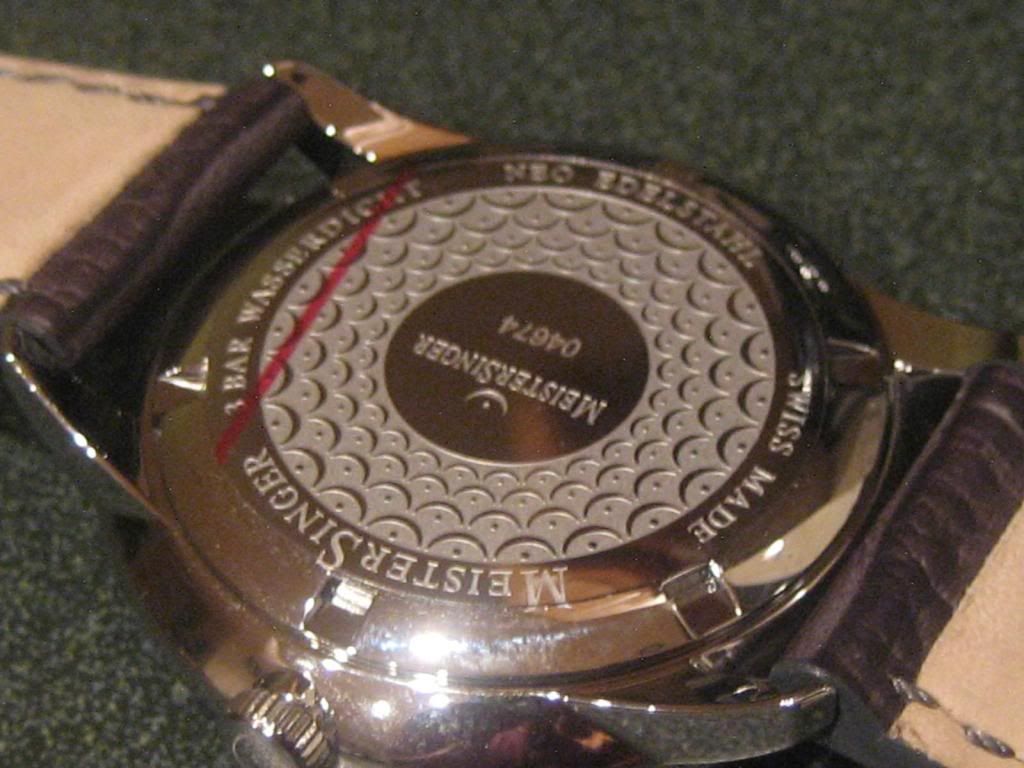 The strap is also stamped.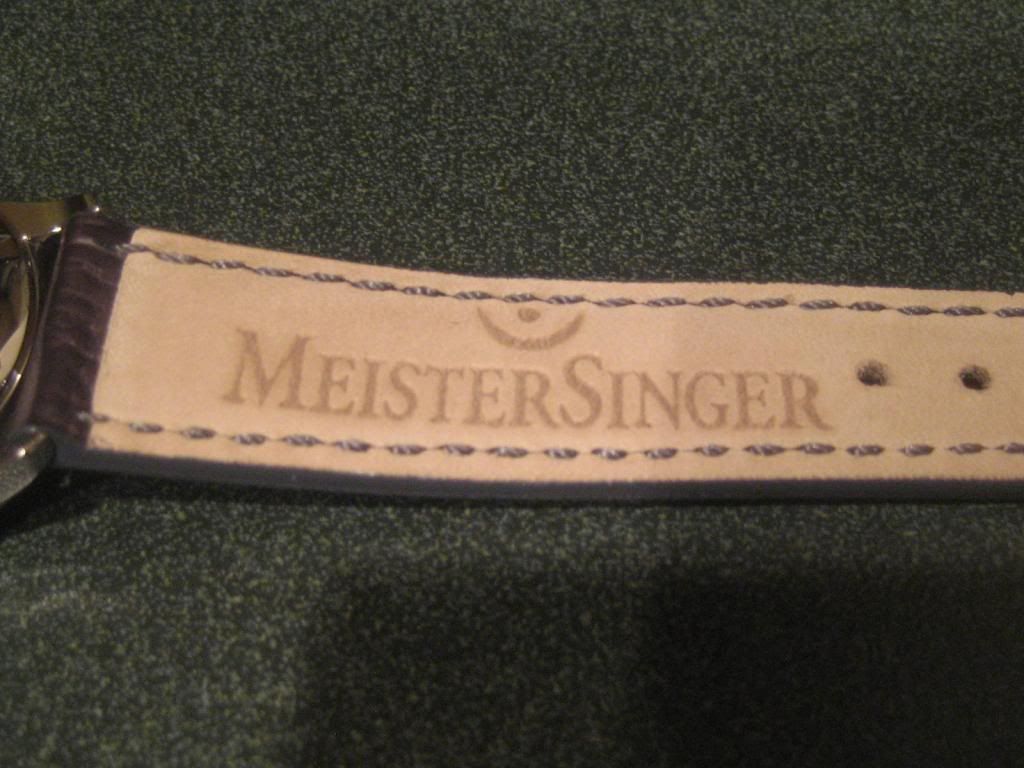 I tried to capture the sun burst dial but not doing a very good job.
All in all a very handsome watch.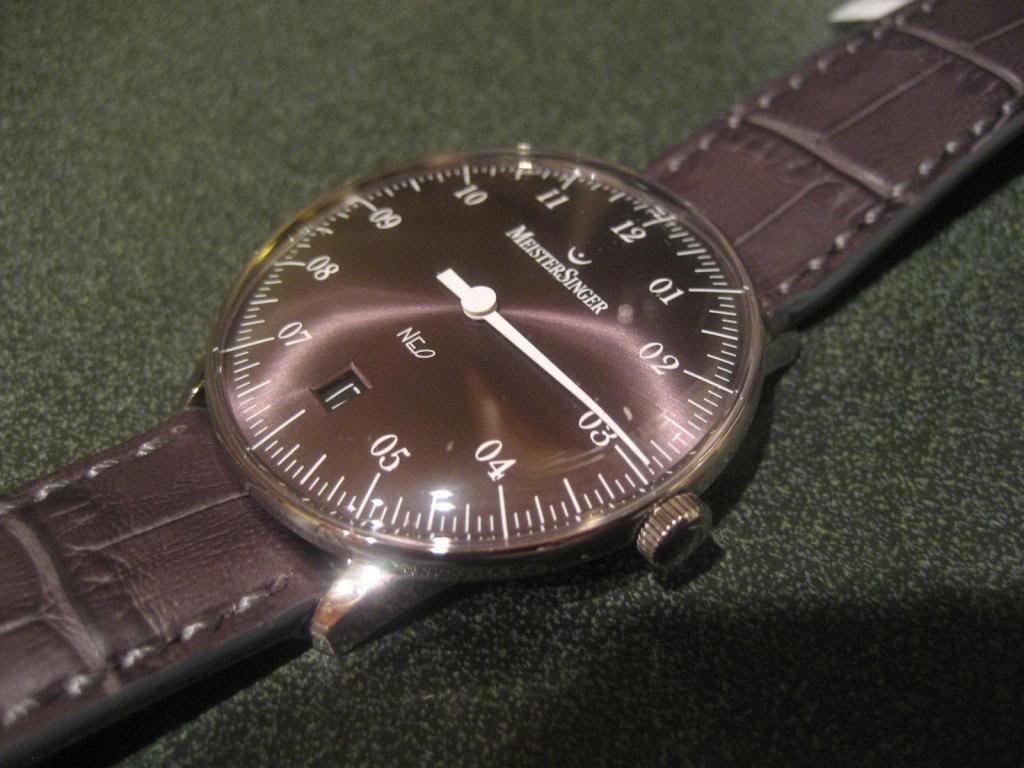 So I have the NEO on the entire weekend so I get to know the watch, so to speak. The movement is ETA 2824-2 which I found running a bit slow over a 24 hour period. It is very difficult for me to measure exactly how many seconds slow being a one-hand watch. And I am not sure if it is because the watch is new has anything to do with it but I will keep an eye next time I have it on. When I set the time I also noticed the gears are a bit tight but I again contributed as being new and hopefully it will loosen up after awhile. The watch is light as a dressy watch should but it is definitely not one for everyone. First and foremost, a one-hand watch needs some adjusting when reading the dial. Secondly, the NEO measures only 36 mm and in today's standard it is considered small. It works for me because I have a 6 1/4" wrist and I wear as small as 34 mm often time. To me it is refreshing to see a small size watch is still in vogue in midst of "larger the better" fashion statement. I really like the date wheel colored black as my photo above shows. It contrasts with the grey dial very nicely.
MeisterSinger although manufactured in Switzerland, remains a very German watch. One thing obvious is the strap length and you know what I mean if you ever own any German watch. I don't understand why German likes long strap. It bugs the daylight out of me.
Oh, the plexi glass I mentioned earlier. This is the second watch I have that comes with plexi glass and I really like it. It is lighter weight than crystal and any scratches can easily buffed out.
All in all, the NEO Z1 is a good buy for the money. It is merely a little more than your mid-range Seiko or Citizen yet the one-hand makes it a unique watch to look at. Base on my experience with MeisterSinger, the brand is solidly built and the quality is above for what you paid. On a scale of 1 to 10, I give the NEO an 8.
Thank you for reading!!!