Worser than this? Note on Valdi's office door, Gone Fission!
Like many middle-aged WISs out there, my first watch was a Timex (younger members might have had a Casio or, worser still, a cell phone.) Timex was, in the middle of the last century,
the
American watch maker. Cheap as hell, durable as a Zippo--
it takes a licking and keeps on ticking!
--nobody probably didn't own one--or more.
Well, the old days are over, the only watches still made in the USA will cost you the price of a 1999 Honda Accord, and even Timex is made in the Far East. But they're still out there--how close they are to their American roots I have no idea, nor did I really even care, until a well-regarded collector sent me a couple of Timexs on loan to review.
Part I, the Timex Expedition Military Field Watch
This one's the pick of the litter, all right--a surprisingly well made, accurate, and handsome watch. Done up to look kind of like a flieger, with a deeply recessed dial and a little red pointy thing on the end of the seconds hand that looks like a jet plane, the Expedition--totally surprisingly--exudes a sense of coolness one doesn't normally find in a watch that probably has a street price of under fifty bucks.
The case, stainless steel, is finished to look like titanium:
The crown, shown here, is nicely machined and operates pretty well--it feels a little loose when trying to find the click to set the time, and the date feature goes both forwards and backwards, a feature that I've not encountered on any other watch. The caseback:
Is a snap-on, and although the engraving (or more likely pressing) of the numbers and words is a little shabby--kind of like how the writing looks on a Vostok Amphibia--it tells you what you need to know, including the battery type, which is nice. The case and dial tells us the watch is water resistant to 100 meters, a good feature for a field watch, although how true this is with a snap caseback and pretty loose crown I can't say.
The dial also glows with Timex's Indiglow feature, which is activated with a press of the crown, here shown on the Expedition's ne'er-do-well brother: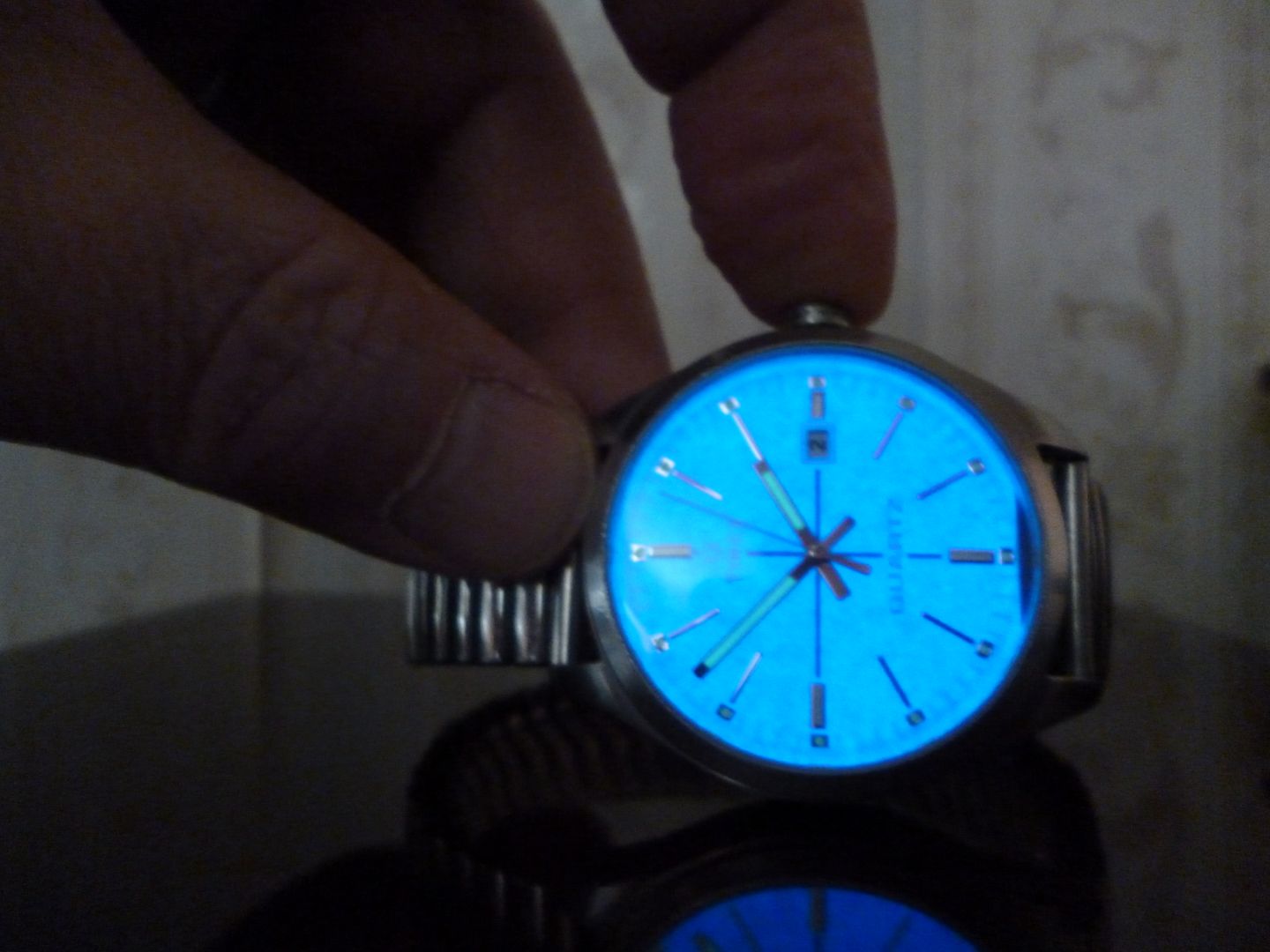 The strap on the Expedition is quite good, with a nylon top layer and a leather bottom, to make it a little more comfy on the wrist. I wore it for two days, and didn't even notice the feather-light watch after a few minutes on the wrist. The size is great, too; 42mm across, 45.5mm with the crown, 50mm top to bottom, and 10.6mm thick. The strap, should you wish to change it, is 20mm.
On my 6.75 inch wrist, the Expedition sits nicely and comfortably, shown here with my playful deadbeat cat Murphy: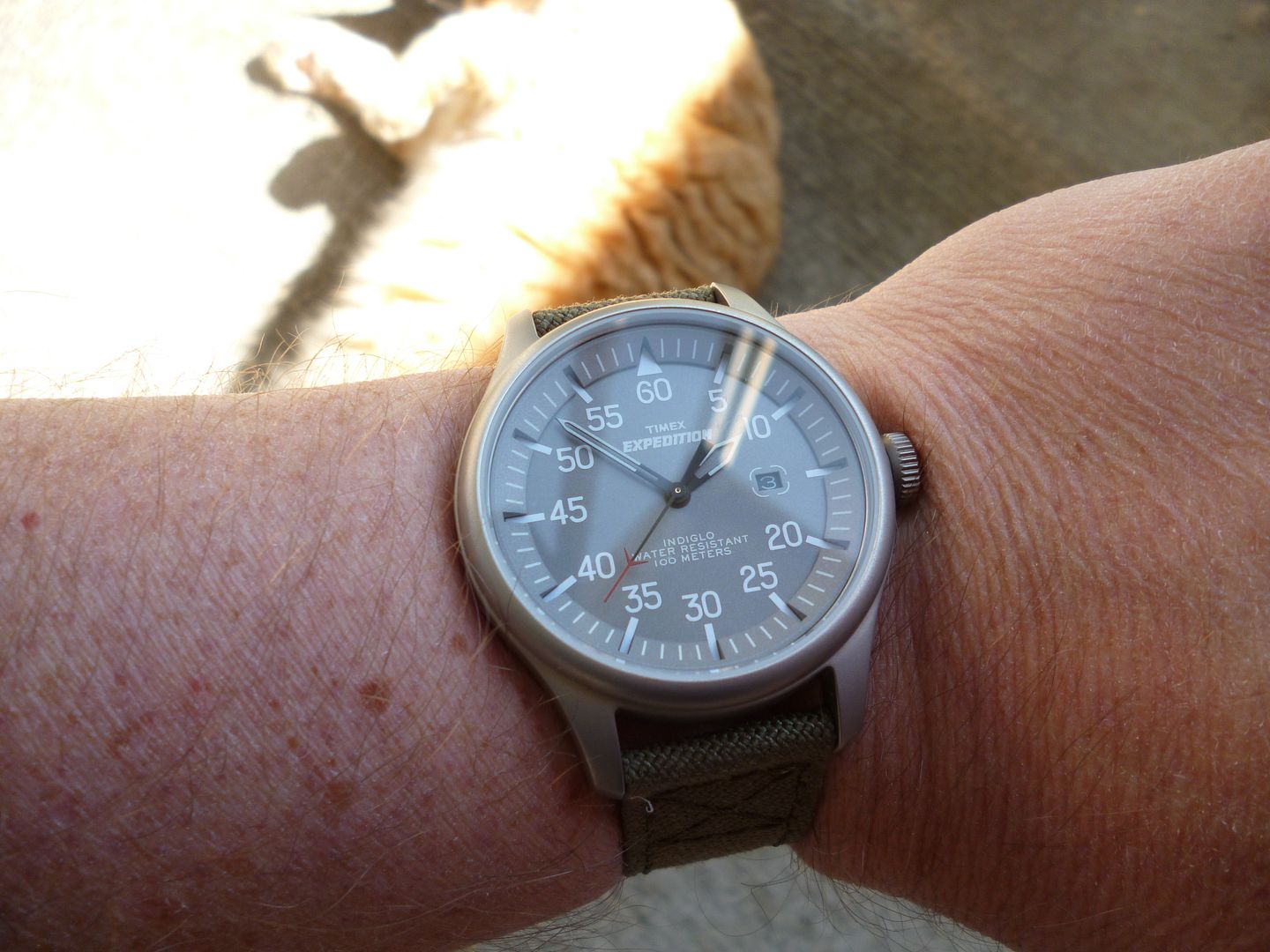 If you're looking for the cheapest possible military-styled field watch you can get, this one should be on your list.
Part II, the Timex Classics Expander-T2N404
Okay, so Timex got one watch right--and in the ying and yang of the whole universe thing, they had to make one so completely awful and so totally uncomfortable. And so they did, with the Classics Expander--which is possibly the worst name to nail on a watch since Daniel Mink came up with the Sporgenza.
Indeed it is--and it might have the same movement inside as the Expedition, but while the Expedition was a joy to wear, this one is awful--and one picture can tell the tale: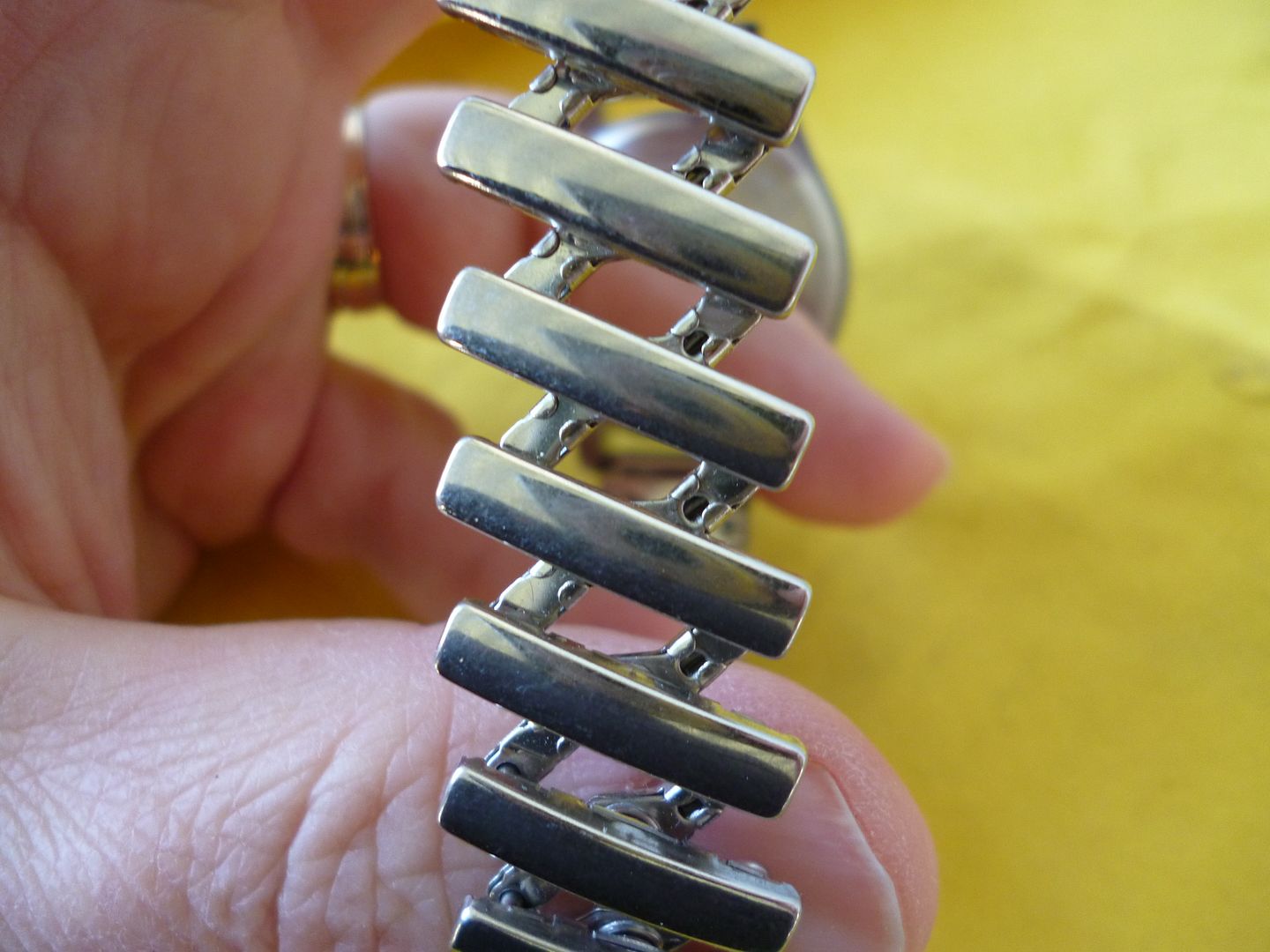 Yup, that's right.
An expansion bracelet
. The worst idea to come to timekeeping since--well, there's never been a worser idea than this. I suppose this is where Timex comes up with the whole retro thing; I can imagine a group of MBAs sitting around the boardroom, picking their noses, trying to come up with a Great Idea. Then, the least smart one--although the bar is set pretty low for MBAs--shouts out
I've got it! Let's make a watch with an expansion bracelet!
Well, some ideas just are no damned good, and why Timex sought to inflict the horror of the expansion bracelet on a new generation is beyond me--perhaps they were looking to cash in on the nostalgia market, to the days when men simply wore expansion bracelets because back then we didn't waste time as a nation buckling and unbuckling leather straps; the expansion bracelet was somehow a Space Age thing. If this is somebody's idea of nostalgia, I suppose it might be less uncomfortable to travel to some hellhole in Afghanistan or India and contract polio and spend nine months in an iron lung.
Anyway, about the watch. It's stainless, it's accurate (it is, after all, QUARTZ) and it's on an expansion bracelet. Case size is 38mm, 41mm with crown, 11mm thick, and it's on an expansion bracelet. It does have Indiglo, which is cool, but it's offset by the fact that it's on an expansion bracelet.
On the wrist, the Classic Expander doesn't fit well, because it's on an expansion bracelet, and the bracelet is too loose for me: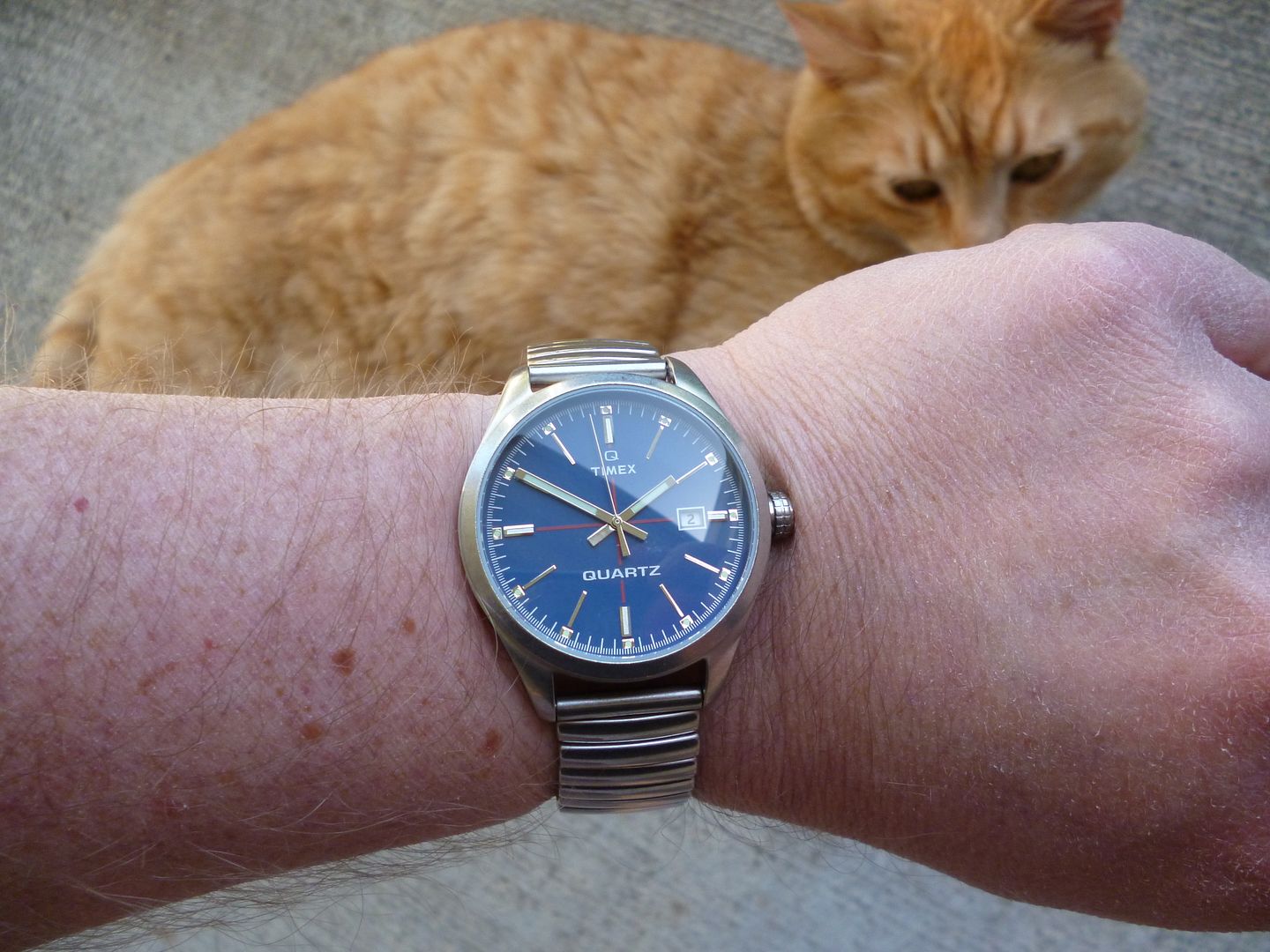 This watch, inexplicably, costs twice as much as the Expedition; I suppose this absurdly high price comes from--wait for it!--being on an expansion bracelet.
So, two watches, one good and one a piece of shit; this is a pretty good average, actually, especially compared to many of the stuff I've reviewed for this series. Buy yourself an Expedition (which is cheaper than a good leather strap) and leave the goddamn expansion bracelets in the old shoebox filled with your grandfather's crap.