Since the glory days of TV watch huckstering - which, in reality, lasted about six months until everyone but pacerguy and the other fapping gibbons at WIT realized they bought a watch or two that were total POS - I'd figured out that Stuhrling Original was Akribos, and Akribos was Stuhrling Original. I had seen both of them at places like TJ Maxx and the boxes were practically identical. Around 2005, I think, I bought two SOs watchs, both of which, I kid you not, literally disintegrated as they sat in a watch box. Live and learn, fair enough; I didn't spend as much as a decent meal at Rue 57 on the both of 'em.
It was right about the time that Frizzy Head McGee was no longer being seen on a home shopping network that SO came out with a "high end brand" called Stuhrling Prestige, all of which claimed to be "Swiss made," and a couple came with sapphire crystals, but most with their super-duper "proprietary" Krysterna ones, which the tousled one claimed was much more shatter-resistant than sapphire, a special claim since most people suffer scratched crystals, not smashed ones, but hey, that's home shopping, and they gots families to feed.
So the other day I'm trowling around Amazon when in a bar that comes up that says something like "you might also enjoy" comes a brand called Alexander. Amazon has a bunch of them, and they're not cheap, selling from around $250 to upwards of $1,200; many come with ETA movements it seems, including "modified" Valjouxs. So I looks at the specs on a few of the watches, they're water resistant, "classic" styling, genuine leather, yada, yada...and Krysterna crystals.
Uh oh.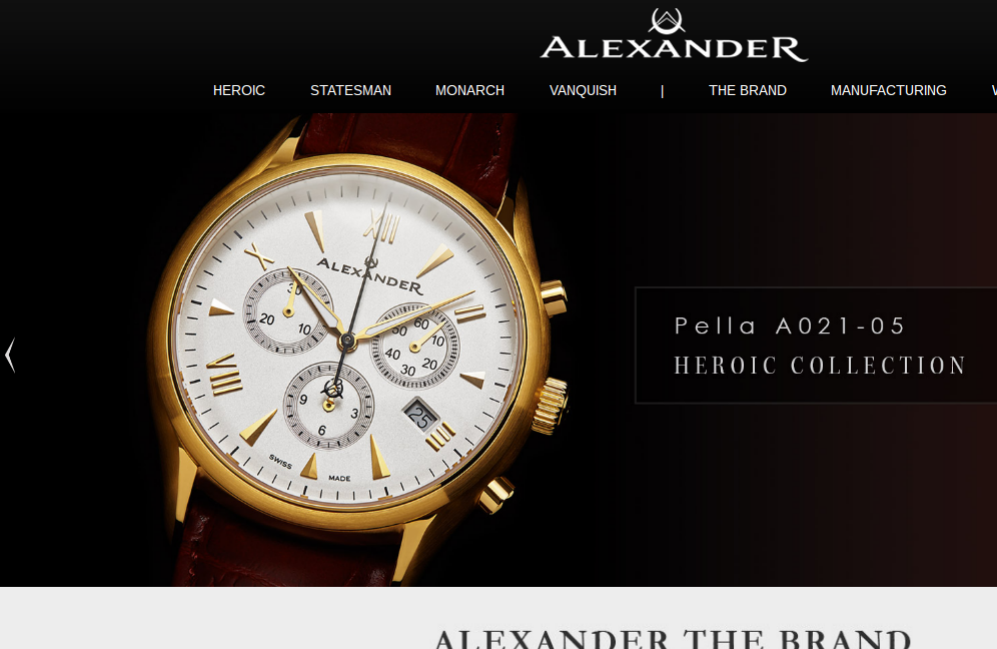 Sure enough - Alexander is a brand that shares the same address as SO and Akribos, so those Brooklyn "watchmakers" have a third brand, too. If you read the Amazon review, people are on to them as well; people question whether they're "Swiss made," and lots of reviews calling this brand, among other things, "suspicious."
And what prestige! From the brand's website:
ALEXANDER STORY
Alexander was the pupil of the storied Greek philosopher Aristotle. He was intelligent, quick to learn and extremely well read. His personality defined charisma, and his obsession with success allowed him to conquer most of the known world at the time. He left a significant legacy beyond his conquests as he founded some twenty cities that bore his name.

Under his rule, Greek language and culture spread from West to East as the former Persian Empire fell to his armies. Alexander became an icon, against which all future military leaders would aspire to be measured. Even today, military academies throughout the world still teach his strategies and tactics.

DAWN OF A BRAND
It is against the backdrop of the historical Alexander the Great, his achievements and strength of character, that the Alexander watch brand was born.

Alexander timepieces exude character, resiliency, and enduring magnetism, much like their namesake. Supreme confidence surrounds the wearer as these timepieces accompany him on his daily journeys. When donning an Alexander timepiece, it is not if, but when.

These timepieces incorporate the best in watchmaking heritage with modern day technology and contemporary aesthetic sensibilities. They stay true to tradition, yet are fitted with an added dimension of prevailing design and chic personality. Constructed with a signature demeanor, they are a bold statement in the world of wristwatch fashion.

Alexander manufactures its luxury wristwatches in Biel, Switzerland. The ancient town of Biel/Bienne, the metropolis of Swiss watchmaking, lies at the eastern end of Lake Biel, at the foot of the Jura in the delightful Lake Region of Switzerland in the canton of Bern. It is here where the Swiss craft of watchmaking is still fostered and advanced.

VALUES
The Alexander blueprint stresses quality workmanship and contemporary aesthetics. We take pride in our ongoing quest to continuously design, develop, manufacture and assemble exquisite timepieces. Our watches are Swiss made with the best materials available. We are committed to innovation and continuous evolution. Alexander is not merely a brand; it is an ambition to achieve.

Krysterna crystals, eh? Brooklyn, you say? I'm going to repost one of those photos on the "Swiss versus US-Swiss" thread that koi started, I'm gonna let the FH sort it all out. I'd bet the ranch they kinda go "uh oh" the same way I did.