First off, this entire "How Bad Could It Be?" concept is Conjurer's idea, so a tip of the cap to him for it. As a rule, I don't buy inexpensive watches any longer – yet, I insist on owning them. I work in an office, land of paper cuts and desk dings, and an aging assortment of Crotons, Sectors and the like resides in my pull out drawer at my business. I wear a good watch to work, take it off, and slip on a sub-beater, and it's off to my own man-made hell that I return to daily.
I recently posted that my New Year's resolution was that I was going to actually wear every watch I own, even stuff collecting dust, so out this came. The watch we're about to discover together I actually didn't buy. It was a gift from my wife's boss for Christmas, and it wasn't even this Christmas; this was his 2015 token of esteem. He's a great guy and pretty well off, so when my wife handed me the box last year I was excited; it could have been a Rolex or Hamilton or something. Not my luck; it was a stocking stuffer – a Lucien Piccard watch.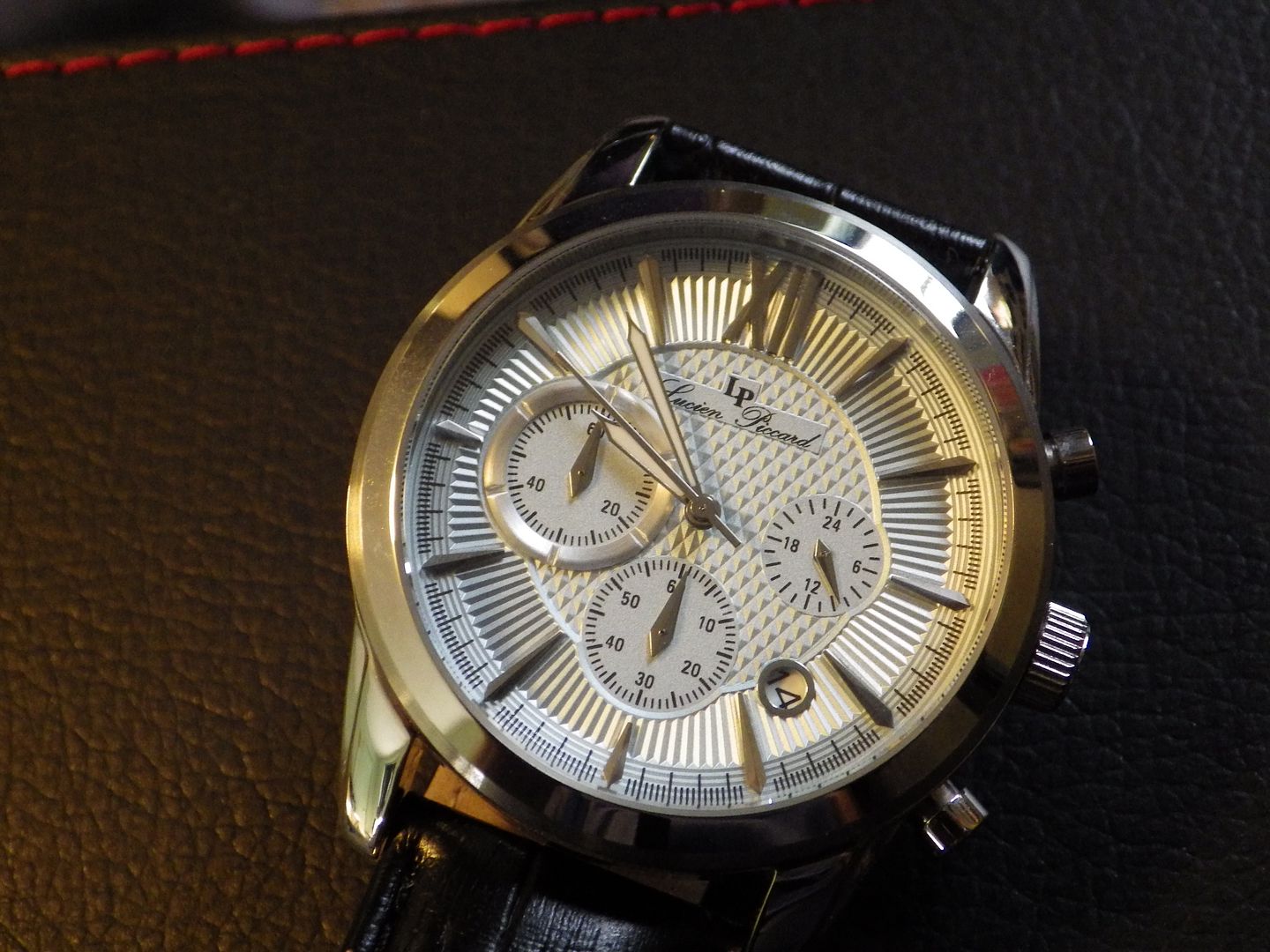 It was in 2011 that Swiss Watch International - owners of Swiss Legend and who bring us the WOW TV streaming show that has seemed to make almost zero impact (even the clods at WIT don't seem to talk about it at all, while at the same time offering 76-post threads about what Daniel Green is wearing that day) through a myriad of talking heads and cable system changes – bought the moribund Lucien Piccard brand. As I've mentioned here before, I don't have the type of disdain for SWI that I have for Evine and Invicta. WOW, for the most part, sells $50 watches for $50, and I have nothing against that. Even the new "Swiss made" Swiss Legend stuff – though, thanks to the insipid Nisso Barokas, who came along with the Elini brand when SWI gobbled it up, "designs" what mainly look like Technicolor yawns strapped on a wrist, oversized and garish – sells for a bit over $150 in most cases. Who cares, really. It's all inoffensive, since SWI actually fixes what they sell and aren't gouging their fans. Sure, they do the crystal tango with their "Sappitek" hooey, but I guess most brands are up to that these days.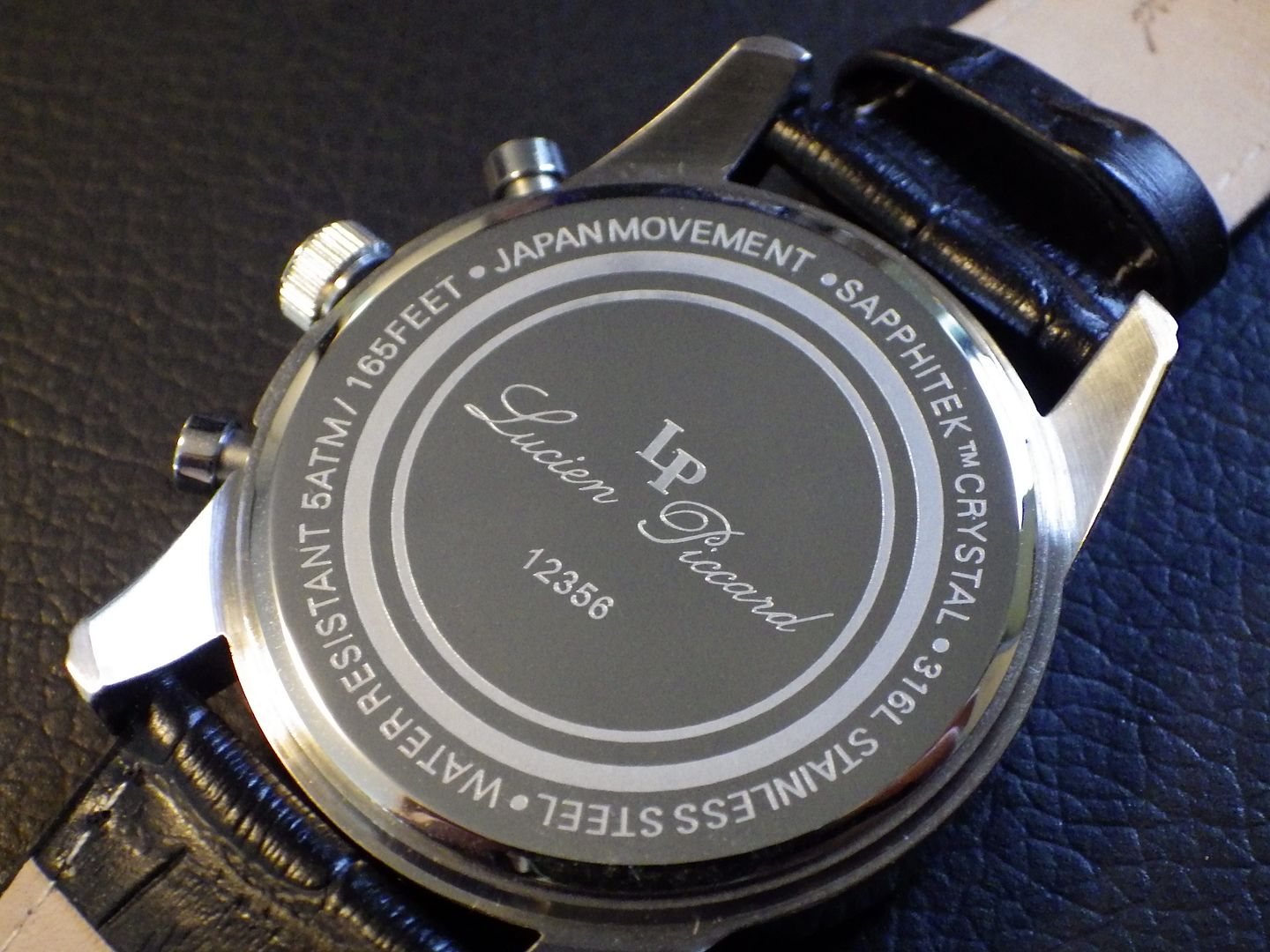 Which brings us to what SWI has done with Lucien Piccard, and the watch I was gifted. My local TJ Maxx has one from time to time, and I see them in other markdown stores (I'm thinking Nordstrom Rack or something but I don't pay them that much mind). I couple of years ago, I noted that I didn't think the designs on the LP line were all that bad – but the new stuff, a lot of which is now packed with low-grade Chinese auto movements, look like Barokas designed them while inspecting his bowel movements for fiber. Ugly as sin, and I'm sure the overall quality rivals such esteemed brands as Jaragar and Winner, who at least have the courtesy to come right out and state that they're Chinese.
This watch, however, is called (I guess they have to name these things) the Mulachen (?), and it's still being sold; Amazon has a bunch of these in diferent colors selling for anywhere from about $50 up to about $155 (!). This is a Chinese-made chronograph with a Japanese quartz movement, and wonder of wonders, these are real chrono buttons, not painted on for show, and they do actually work.
The watch is 42mm with the wondrous "Sapphitek" crystal included. The watch is very light but it seems solid enough – here's the minutiae:
"Stainless steel case with a croco-embossed leather strap. Fixed stainless steel bezel. Brown dial with silver-tone hands and index hour markers. Arabic numeral marks the 12 o'clock position. Minute markers around the outer rim. Dial Type: Analog. Luminescent hands and markers. Date display between 4 and 5 o'clock positions. Chronograph - three sub-dials displaying: 60 second, 60 minute and 24 hour. Japanese quartz movement. Scratch resistant sapphitek crystal. Push / pull crown. Snap down case back. Case diameter: 42 mm. Case thickness: 12 mm. Round case shape. Band width: 19 mm (22 mm at widest). Band length: 9 inches. Tang clasp. Water resistant at 50 meters / 165 feet. Functions: chronograph, date, hour, minute, second. Dress watch style. Watch label: China."
Since this watch is at least a year old, I'm assuming it was issued before Barokas got his over-designing claws on it. At 42mm, it's actually in the size zone I like … but it's about as comfortable as sticking your hand into a garbage disposal. The flimsy "croco-embossed leather strap" has a backing that feels like cardboard, and it's just a shade close to being unwearable. It's also stiff and unyielding, causing the watch to never quite find a comfortable spot on the wrist, and the band barely bends so it takes ages just to get it through the loops/keepers. If I had any regard for the watch at all I'd replace it with a different strap, but t'aint worth it.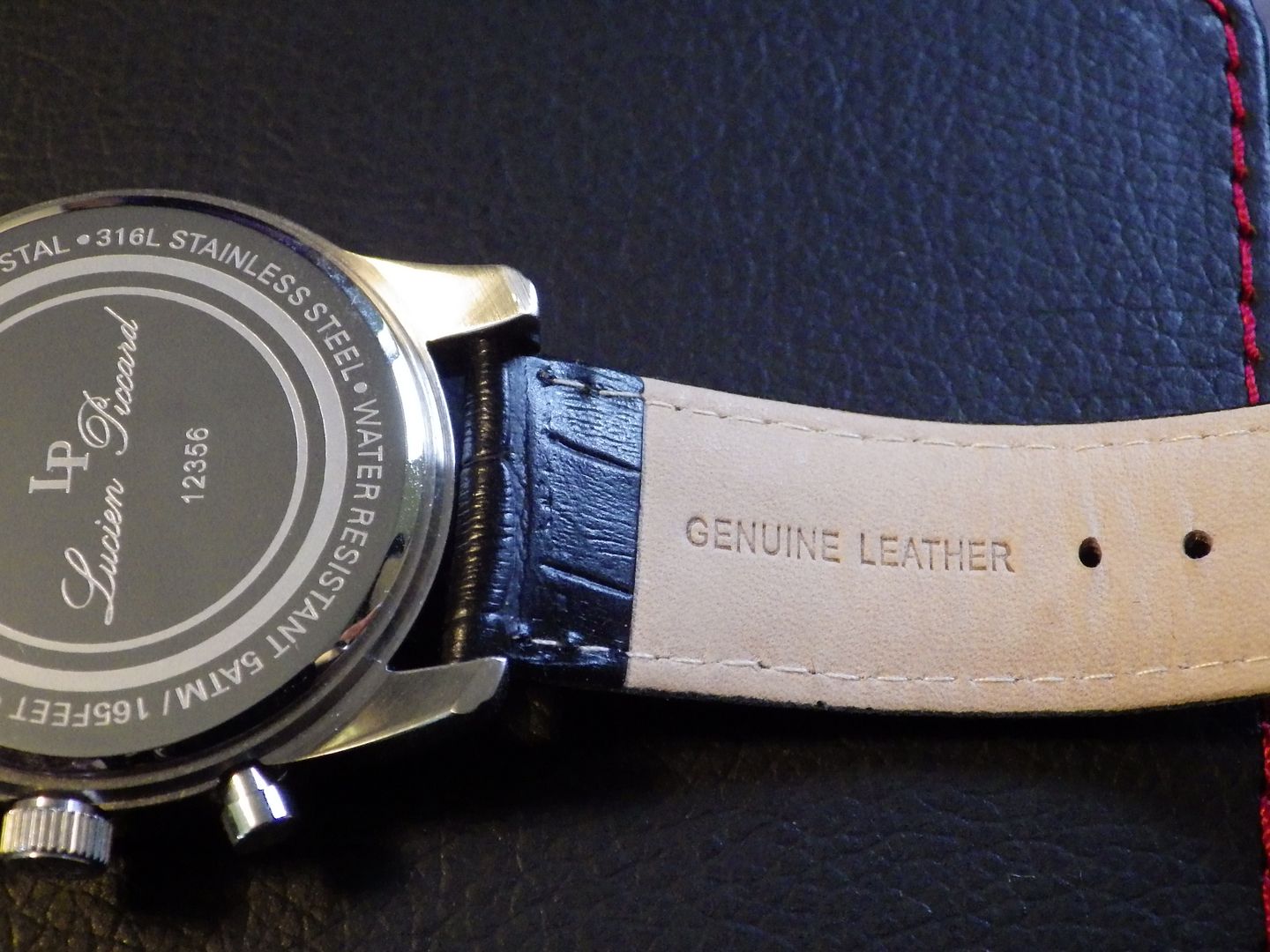 My overall impression is that the watch really doesn't look that bad (or cheap) even up close; the design is understated and tasteful enough to make it a choice as a business or dress watch for those on a budget – which confuses me as to the chronograph function, which seems out of place given the styling, but there you go. Flipping around Amazon, the customers who picked up this model ranged from raving about it to the usual "the crystal fell off" complaints.
As for me, I never return a gift; it was really great of my friend to think of me since I remember that I told him in conversation that I was a wristwatch fan. As for this LP, if I had to rate it, it would be barely passable even at its lowest price, but I can't recommend it. Budget watches are what they are – this runs and it isn't ugly, but the cheapjack strap gives it a failing grade. I'll wear this from time to time, but not much.