MUSEUM STATE-OF-THE-ARTNESS
Omega breathes new life into the first wrist-chronograph ever assembled in the manufacture by proposing its 1913-created model with a cutting-edge twist. Explanations.
Riding the wave of everything vintage, the watchmaking industry has invited us to discover a myriad of limited series combining a case embracing the stylistic codes of a historic model, to a greater or lesser extent, and an ultra up-to-the-minute movement. Omega has reversed the trend by presenting a genuine timepiece from its original collection. With its First Omega Wrist-Chronograph Limited Edition, the brand reveals a watch incorporating a real hand-wound mechanical movement from 1913. The eighteen 18"' CHRO calibres, equipped with a Breguet balance-spring, which make up this limited edition come from timepieces retrieved from the vaults of the brand's museum. All were meticulously hand-restored pursuant to the rules of the craft and integrated into a 47.5 mm-diameter case which hosts cutting-edge components. To complement the white gold, SednaTM gold has been used on the crown and on the push-piece set at 6 o'clock. This alloy, comprising 75% gold, copper and palladium, stands out with its reddish colouring and enhanced durability.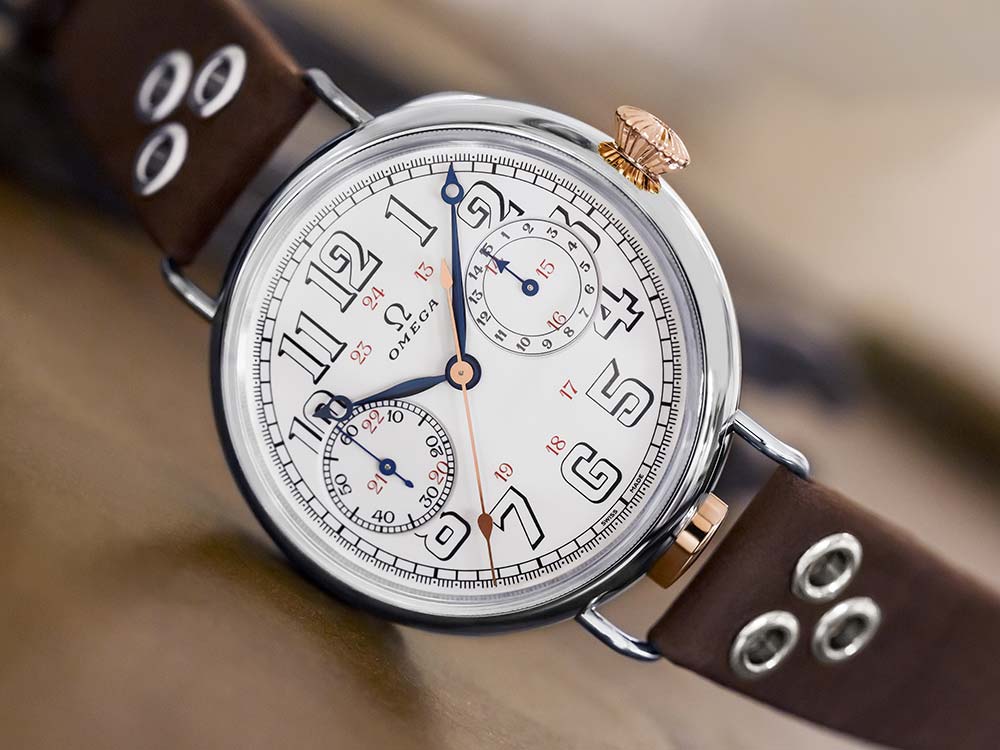 https://www.watches-news.com/omega/firs ... d-edition/
Pretty good, but not faithful to the original.
The shadow dial should have lume, the hour and minute hands should be lumed skeleton 'pear' (cathedral for yanks!) hands, the sweep chronograph hand does not have an arrow tip, and the crown should be the small 'pumpkin' style.
A 1917 advert showing the radium dial/hands, and a 2012 auction pic of an original 1915 non-radium dial/hands model, with gold pear hands.