I don't like talking about myself here a lot, but I've mentioned I was a traveling and recording blues musician for many years. In that light, I've always been really enamored with the Oris "culture series," where every year they fashion a watch or two in tribute to a legendary musician. In the past, they've issued models for Dizzy Gillespie, Oscar Peterson, Bob Dylan, Miles Davis, Frank Sinatra, and others. I still consider my aging "Dizzy" one of the prized watches in my meager collection. One of the things I like best about the Oris series is that they designs aren't corny in the least or bang you over the head like sports homage watches do; the designs are based on places and songs and accomplishments, but they're always so tasteful and subtle and I'd wager that most people who'd look at them wouldn't know they're homages in the first place (one that didn't work, for me, was their Thelonius Monk watch, which looks like a basic Artelier with blue dial - not enough homage in the homage).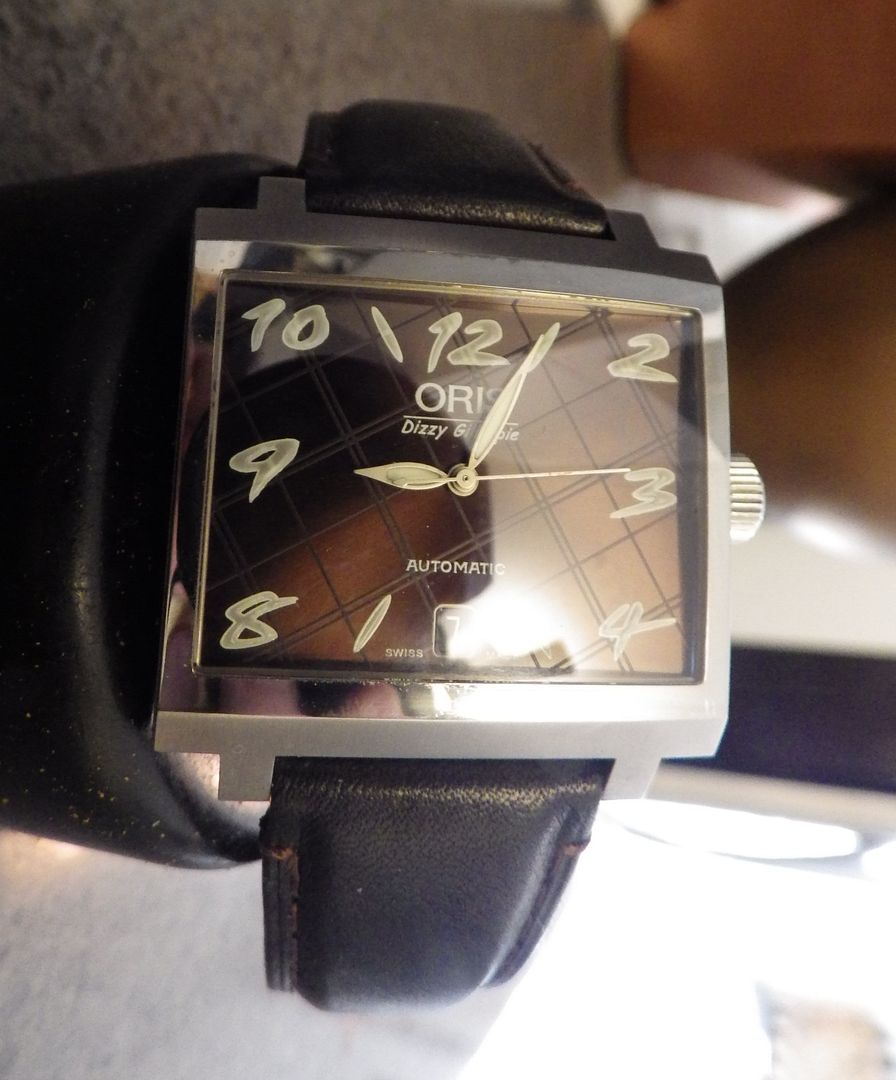 I bought the Dizzy gray a long while back, and while I got it very inexpensively, it didn't come with the box it was originally packaged in, which was supposed to include a CD and other stuff and instead came in a generic Oris retail box. No big deal; I wanted the watch, not the toys, but it's something to remember when buying gray - returns from defunct jewelers and such can result in watches being resold in boxes that they weren't originally in.
But I digress. When the Oris homage to Chet Baker first came out in 2012, I was instantly smitten, but being the cheap bastard I am, not so much with the $1,850 list price for a watch with a good but not exceptional Oris caliber 733, which is essentially a Sellita SW200. So I waited it out - but the darn thing didn't even show up on that many gray sites. But I do shop in Manhattan often and I noticed the Tourneau flagship store on 57th Street here in NYC always stocked the watch. Imagine my delight when I walked in and it was suddenly included in the store's small "On Sale" display ... and at 40 percent off, no less. I pounced.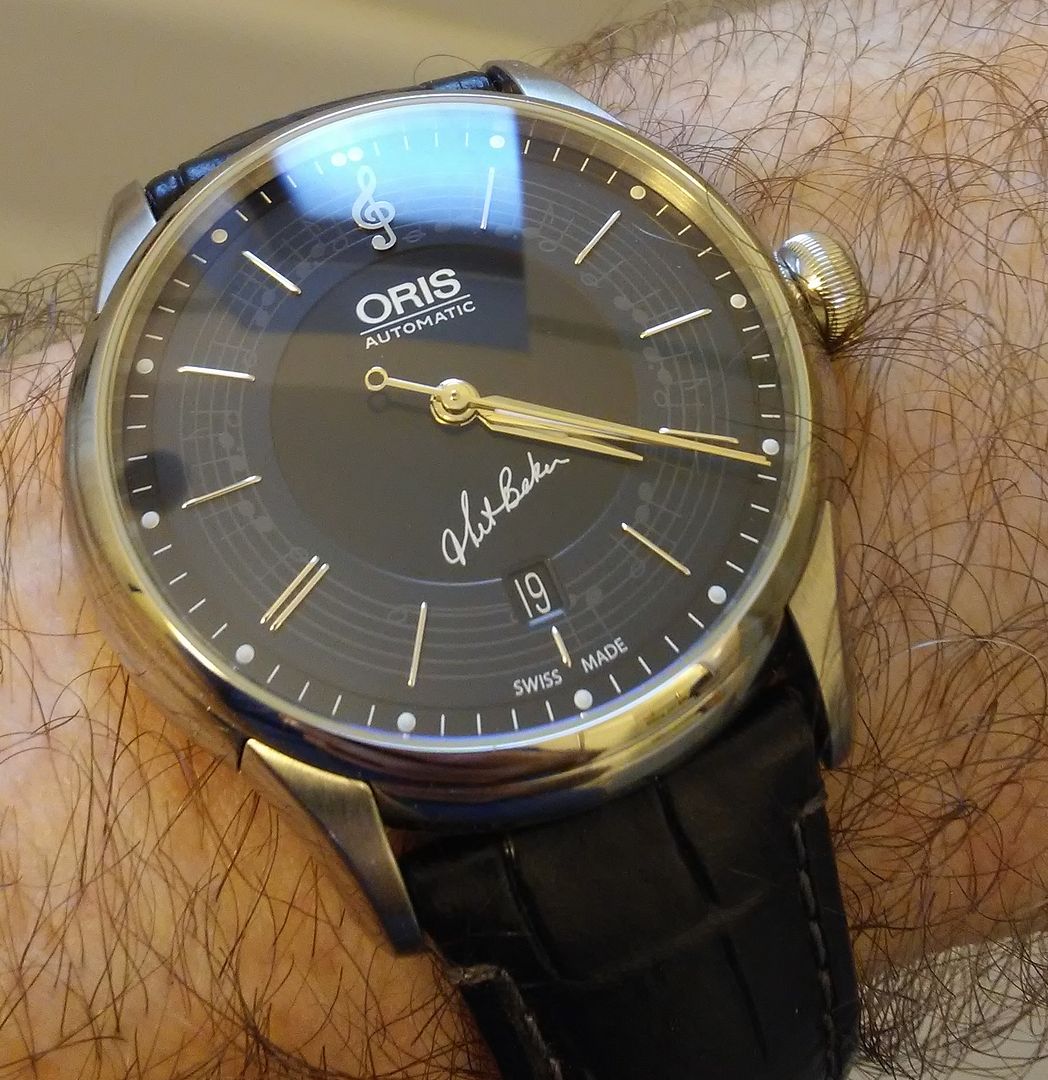 Notice the subtle musical notes on the dial? If they're read out, that's the first bar or so of "My Funny Valentine," which the tragic but oh-so-gifted jazz star Chet Baker recorded and probably became his best-known reading.
I also got lucky in a fashion when an exceptionally friendly and quite handsome young lady approached me and became my salesperson; after she told me the price, I told her I was interested but only if the watch came in its original packaging. She went over to the Oris counter and I expected her not to find one - but sure enough, the original packaging was there, and it only took her about 15 minutes to dig it all up. Everything was pristine, pretty cool considering this watch has been in the store since it was new, I'd wager. Since the watch has display wrap on it, they also took it and gave it the steam clean while we dickered over the price.
The nuts and bolts: A quite manly 40mm, sapphire (duh), 38 hour power reserve, leather strap with folding closure, superluminova on the hands and indices (!), the traditional autograph-and-etching caseback with porthole...
The packaging came with a magazine-like color bio with photos about Baker and his life, as well as - get this - an actual working metronome. Believe or not, these things still get used in studios - just ask any combo that needs to rehearse but their drummer doesn't show up. The thing actually works.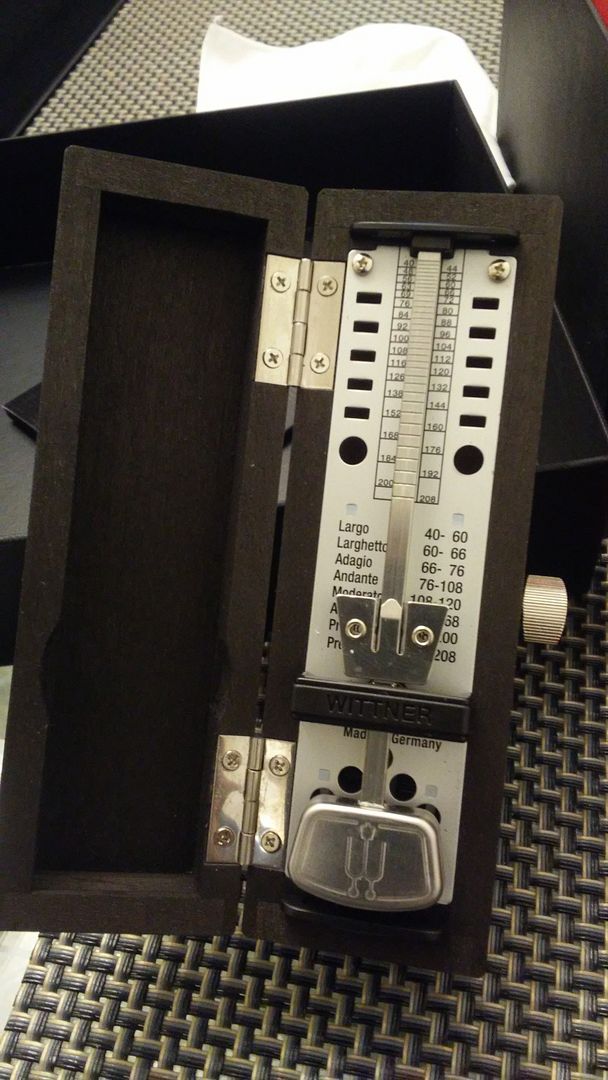 My lovely salesperson and I got to talking about all things Queens (we both live there) and she wouldn't let me leave before she got me a promo hat, since I had to wait so long for the cleaning and the digging up of the box:
Hilarious.
In short, I really enjoy these Oris music homages; I just think they're sharper than a tack, they have personal meaning to me, and they're good quality watches, which I can attest to since I've had good luck with the Dizzy piece. I know more than a few of you here will consider me a goof for enjoying such a series, but if you need to find me I'll be goofily staring at my new watch for the next few days while Baker plays so sweetly on my turntable.